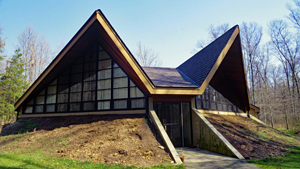 During the remainder of August, the Norma Hoffman Visitor Center at Huntley Meadows will have modified hours on Monday, Thursday and Fridays. The new hours will be 9 a.m. until 1 p.m. The park grounds, including the meadow and walking trails, will remain open as normal, from dawn to dusk. Visitors will not have access to the Visitor Center's indoor interpretative areas and restrooms after 1 p.m.  We regret the inconvenience and look forward to a resumption of regular operations in September.
The cause of the temporary reduction in hours is due to current staffing levels. The Park Authority, like so many employers across the country, continues to encounter difficulty in recruiting staff for positions throughout the system. However, we continue to utilize a wide variety of recruitment methods and encourage interested parties to visit Jobs at the Park Authority for information about jobs.
The park is home to a nationally significant historic house, majestic forests, wildflower-speckled meadows and vast wetlands bursting with life. Some of the best wildlife watching in the Washington Metropolitan Area is here.
Huntley Meadows Park is located at 3701 Lockheed Blvd. in Alexandria, Virginia. For more information, contact the site at 703-768-2525 or via parkmail@fairfaxcounty.gov.