Summer Jobs Start with Your Parks - HIRING NOW!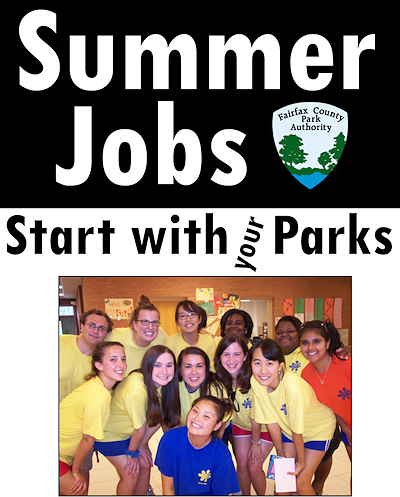 Parks are powered by people - lots of them in the summer. Each year the Fairfax County Park Authority hires more than 500 seasonal employees as lifeguards, camp counselors, Rec-PAC staff, maintenance workers, security, cashiers, and supervisors. It's a great way to start your career, gain experience, build your resume and have real responsibility. Make friends and make a difference in the lives of children this summer when you Start with Your Parks this summer!
Seasonal and Non-Merit Jobs
Interested in Parks and Recreation jobs such as recreation leaders, interpreters, and other staff at park facilities and RECenters? Instructor positions include day care teachers, instructors and educational jobs at park facilities, community centers, and other locations
The Fairfax County Park Authority is proud of its ability and opportunity to provide a variety of intern programs for individuals seeking on-the-job experience in all aspects of Park Authority operations. The agency intern program boasts a well-established history dating back to the 1960's. The program has changed throughout the years, growing and adapting to meet the ever-changing needs of the park and recreation profession.
RELATED RESOURCES