2019 Healthy Strides 5K and 10K
Head out to Burke Lake Park on May 4th and join the Fairfax County Park Authority for the 8th annual Healthy Strides 5k/10k!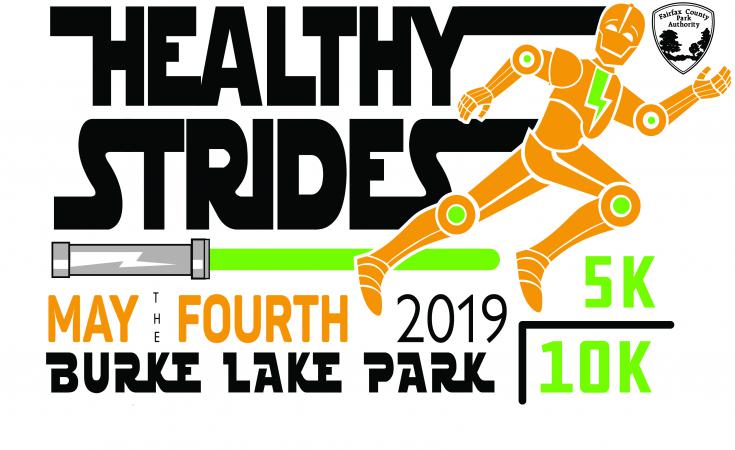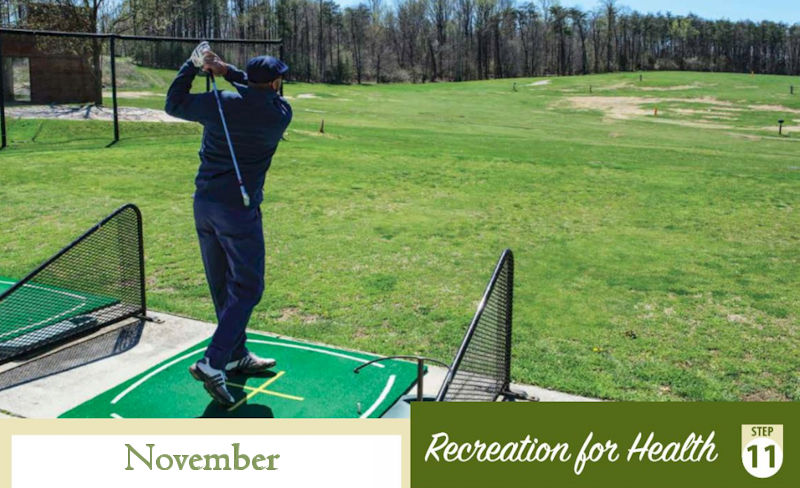 November - Step 11: Recreation for Health
Practice yoga, go for a swim, go fishing, or simply take a walk – find an activity or place that restores your mind and body through parks and recreation.
October WINNER - Savita Sood
Fairfax County, Virginia is one of the oldest counties in the United States. In which year was the County formally established?
A) 1600
B) 1742
C) 1815
D) 1922
Answer: B - 1742
September WINNER - Milly Sanchez
How many drop-in group exercise classes are offered per month at all the Fairfax County RECenters, combined?
A) 600
B) 250
C) 890
D) 430
Answer: A - 600
August WINNER - Johnson Cheng
According to USDA's MyPlate for kids, half of your plate should contain:
A) Dairy
B) Fruits and Vegetables
C) Whole Grains
D) Protein
Answer: B - Fruits and Vegetables
JULY WINNER - Aleithe DuBravac
What way(s) can you purchase food from locally-sourced farms
A) Through CSA's
B) From Farmers Markets
C) At U-Pick farms/orchards
D) All of the Above
Answer: D - All of the Above
JUNE WINNER - Jeff Feldmesser
Which trail is over 40 miles long, stretches from one end of Fairfax County to the other?
A) The Washington & Old Dominion (W&OD) Trail
B) The Gerry Connolly Cross County Trail
C) The Potomac Heritage National Scenic Trail
D) The Fairfax County Parkway Trail
Answer: B - The Gerry Connolly Cross County Trail.
MAY WINNER - Jamilah Dalton
How many miles of bikeable trails (shared use) are located within Fairfax County?
a) 50 miles
b) 200 miles
c) 350 miles
d) 500 miles
Answer: D - 500 miles.
500 miles of bikeable trails (shared use) are located within Fairfax County.
APRIL WINNER - Nancy McDonough
You use a reusable cup or bottle to drink the recommended 64 oz. (1/2 gallon) of water per day. You drink filtered tap water – the filter can make up to 80 gallons of clean water. How many days of clean drinking water will you get before you need a new filter?
a) 64 days
b) 80 days
c) 160 days
d) 200 days
Answer: C - 160 days.
1 gal = 128 oz
80 gal = 10,240 oz of water can be filtered
64 oz is the daily recommendation
10,240 / 64 = 160 days of filtered H20
Source: Healthy Life Healthy Planet
MARCH WINNER - Jolene Romanyshyn
Across the entire food production and consumption chain, up to what percentage of all food in the United States never gets eaten?
a) 10%
b) 20%
c) 30%
d) 40%
Answer: C - 40%. Across the entire food production and consumption chain, up to 40% of all food in the United States never gets eaten. This translates to $218 billion lost, which includes the cost of food wasted at the consumer and retail levels, as well as the cost of wasted water, energy, fertilizers, cropland and production.
FEBRUARY WINNER – Jodi Conklin
Feel your heart beat... what part of your heart makes the "thump-thump" sound?
A) The blood moving in and out
B) The four heart valves closing
C) 2 valves closing, 2 valves opening
D) A little guy playing drums in your chest
Answer: B. The "thump-thump" of a heartbeat is the sound made by the four valves of the heart closing.
JANUARY WINNER – Jennifer Kaplan
When hiking in cold weather, you should layer your clothing with different types of fabrics to stay dry and warm. Which type of fabric should be avoided?
A) Nylon
B) Wool or fleece
C) Water-wicking synthetics
D) Cotton
Answer: D – Cotton. The clothing layers should consist of several different types of fabrics. Cotton should be avoided in cold conditions. Cotton absorbs and retains water, and therefore it will not keep you warm if it gets wet. Also it can be difficult to dry. Polypropylene or other hydrophobic synthetic fabrics move the moisture (sweat) away from your body to the outside of the layer, reducing evaporative cooling and keeping you dry and comfortable. Wool or synthetic pile/fleece fabrics don't absorb water so they keep you warm even if they get wet. Pile also dries very quickly. A wool sweater or pile jacket provides warmth on a chilly evening. Nylon or Nylon/Cotton Windshells reduce convective heat loss. For raingear, coated nylon is lightweight and works well. Waterproof-breathable fabrics are also possible but are expensive.
November Trivia Question
Please fill in all of the fields below:
Physical Activity for the Whole Kid
The physical benefits of moving and being active are well documented – better coordination, strength, speed and agility, as well as a reduced risk for overweight or obesity. There is also support for mental health benefits in active children, especially in an outdoor setting such as a park. Kids with attention deficit hyperactivity disorder who take a 20-minute walk outside are able to focus better. Achieving an A in math or English is 20% more likely for kids who are physically active, which increases brain activity. Parks and RECenters are not only great places to stay active, but can serve as a place for growth, exploration and building life skills for young people. Bottom line – kids who are active work both their muscles and their brains to achieve better health. Get your kids to a park or RECenter today to reap the benefits of physical activity.
Source: National Recreation and Park Association, "Parks and Healthy Kids"
Parks & Recreation: A True Health Solution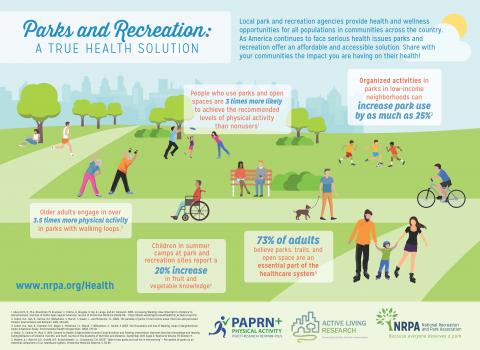 2018 Healthy Strides Calendar
About Healthy Strides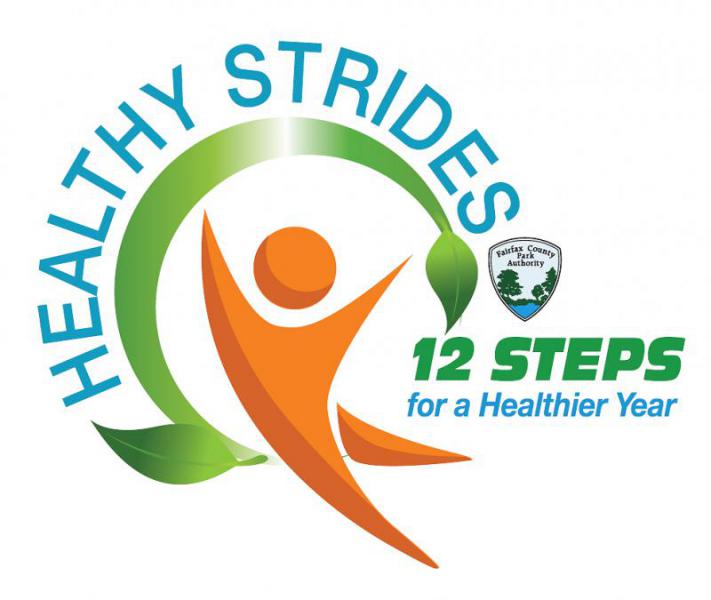 Welcome to Healthy Strides – giving you 12 Steps for a Healthier Year! Don't miss out on this year's great wellness opportunities in the Fairfax County community!
The Healthy Strides program is free* and anyone can participate at any time.
This program is designed to:
Help you accomplish healthy goals each month, with tips to keep you going for the duration.
Give you access to information - free workshops and a Wellness Book Club are available each month on different healthy topics.
Provide an opportunity for you to experience wellness programs offered across Fairfax County, including Mini-Health Fairs, held quarterly.
Empower you to make important lifestyle changes... you can do it!
*There is a registration fee to participate in the Healthy Strides Community 5k/10k.
Monthly e-Newsletter Subscription
Sign up to receive Healthy Strides news every month! Stay on track for making healthy changes in your life with our helpful articles and tips, as well as our free events schedule. The monthly trivia answers will be revealed and winner will be announced. Quick, easy and useful.
Make healthy strides in your own life by joining the Healthy Strides Wellness Book Club! This club is for adults, and meets at different Fairfax County Public Library sites each month. Discussion on the featured books will be led by a Fairfax County Park Authority fitness and wellness expert, on topics in health, fitness, nutrition and wellness.
RELATED RESOURCES