2018 Healthy Strides Community 5K and 10K
Thank you to all participants. Photos and race results now online.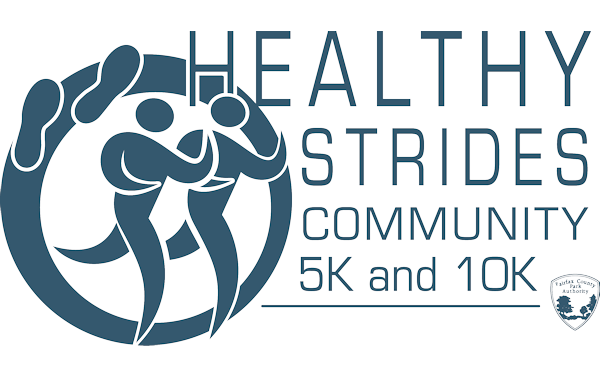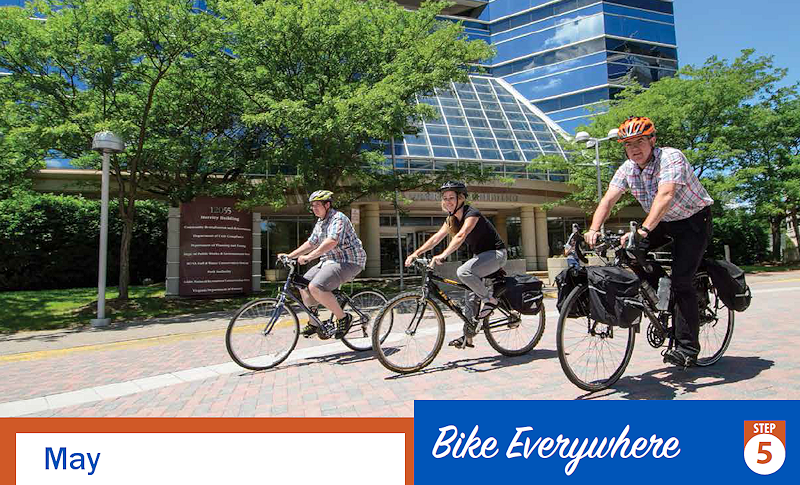 MAY - Step 5: Bike Everywhere
Join the pedal-powered movement and kick it into high gear this month! Ride a bike or walk anytime you can, for a healthier body and community.
APRIL WINNER - Nancy McDonough
You use a reusable cup or bottle to drink the recommended 64 oz. (1/2 gallon) of water per day. You drink filtered tap water – the filter can make up to 80 gallons of clean water. How many days of clean drinking water will you get before you need a new filter?
a) 64 days
b) 80 days
c) 160 days
d) 200 days
Answer: C - 160 days.
1 gal = 128 oz
80 gal = 10,240 oz of water can be filtered
64 oz is the daily recommendation
10,240 / 64 = 160 days of filtered H20
Source: Healthy Life Healthy Planet
MARCH WINNER - Jolene Romanyshyn
Across the entire food production and consumption chain, up to what percentage of all food in the United States never gets eaten?
a) 10%
b) 20%
c) 30%
d) 40%
Answer: C - 40%. Across the entire food production and consumption chain, up to 40% of all food in the United States never gets eaten. This translates to $218 billion lost, which includes the cost of food wasted at the consumer and retail levels, as well as the cost of wasted water, energy, fertilizers, cropland and production.
FEBRUARY WINNER – Jodi Conklin
Feel your heart beat... what part of your heart makes the "thump-thump" sound?
A) The blood moving in and out
B) The four heart valves closing
C) 2 valves closing, 2 valves opening
D) A little guy playing drums in your chest
Answer: B. The "thump-thump" of a heartbeat is the sound made by the four valves of the heart closing.
JANUARY WINNER – Jennifer Kaplan
When hiking in cold weather, you should layer your clothing with different types of fabrics to stay dry and warm. Which type of fabric should be avoided?
A) Nylon
B) Wool or fleece
C) Water-wicking synthetics
D) Cotton
Answer: D – Cotton. The clothing layers should consist of several different types of fabrics. Cotton should be avoided in cold conditions. Cotton absorbs and retains water, and therefore it will not keep you warm if it gets wet. Also it can be difficult to dry. Polypropylene or other hydrophobic synthetic fabrics move the moisture (sweat) away from your body to the outside of the layer, reducing evaporative cooling and keeping you dry and comfortable. Wool or synthetic pile/fleece fabrics don't absorb water so they keep you warm even if they get wet. Pile also dries very quickly. A wool sweater or pile jacket provides warmth on a chilly evening. Nylon or Nylon/Cotton Windshells reduce convective heat loss. For raingear, coated nylon is lightweight and works well. Waterproof-breathable fabrics are also possible but are expensive.
May Trivia Question
Please fill in all of the fields below:
Fairfax County: Bike to Work Day
Bike to Work Day is Friday, May 18, 2018! This annual event is held every spring to increase awareness and expose people to the benefits of bicycling to work, as well as everywhere else you go daily. There are over 100 pit stops in the Metro DC region, with 17 of those in Fairfax County. If you plan to participate as a rider, be sure to register to reserve your T-shirt and enter the bike raffle. Bike to transit to work counts too! Before you ride, check your route and pit stop schedule – helpful links are listed below.
Registration, Pit Stops and More Info: Bike to Work Day 2018
Bike Routes: Fairfax County Bicycle Map
The Case for Cycling
There are many reasons that you might pick up cycling – for the fitness aspect, for the adventure, because you love being outside, for the gadgets. Here are a few more reasons to consider when deciding if cycling is right for you.
It's an inexpensive form of transportation... no taxes, no fuel, no insurance, no tolls, no parking fees.
A well-made bike can last for many years.
It's an activity you can do with the entire family.
It's good for the environment, reducing your carbon footprint.
It's a great way to get around and see new things.
It's good for you. The Shanghai Women's Health Study found that both regular exercise and cycling for transportation were independently associated with a reduction of mortality compared with inactive individuals.
You can burn as many as 750 to 1,000 calories per hour if the biking is hard and continuous.
It's fun and easy to do, and you can do it for a lifetime.
Source: Medicinenet.com, "Why Should I Bike"
Tip of the Month
Riding Safely
Observe traffic lights and stop signs. Many cities require bikers to follow the same rules of the road as motorized vehicles. Know the laws in your jurisdiction.
Ride in the direction of traffic.
Watch for doors of parked cars opening unexpectedly.
Watch for pedestrians at crossings and jaywalkers stepping out from behind a parked car or truck. Pedestrians crossing streets are looking for big objects like cars and trucks, not bikers.
Ride defensively. Use your judgment and slow down if necessary. As a cyclist, you can't compete with cars, and running into a pedestrian is not fun either.
Always wear a helmet.
For more information: Fairfax County Bike Safety
Source: Medicinenet.com, "What About Bike Safety"
2017 Healthy Strides Calendar
12 Months, 12 healthy goals. Don't miss out on this year's great wellness opportunities in the Fairfax County community! The calendar contains fitness and wellness tips, ways to improve your nutritional habits, and better health ideas for kids, teens and adults. Also, the calendar contains coupons to use throughout the year. STEP UP to better health!
About Healthy Strides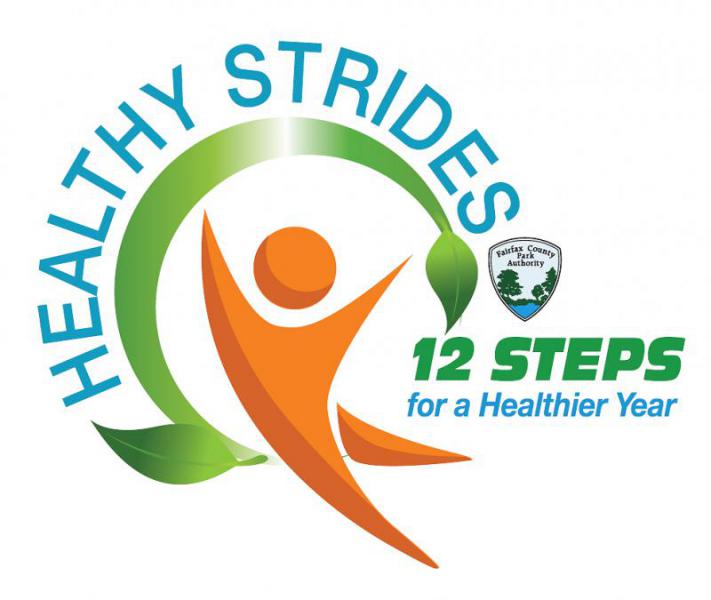 Welcome to Healthy Strides – giving you 12 Steps for a Healthier Year! Don't miss out on this year's great wellness opportunities in the Fairfax County community!
The Healthy Strides program is free* and anyone can participate at any time.
This program is designed to:
Help you accomplish healthy goals each month, with tips to keep you going for the duration.
Give you access to information - free workshops and a Wellness Book Club are available each month on different healthy topics.
Provide an opportunity for you to experience wellness programs offered across Fairfax County, including Mini-Health Fairs, held quarterly.
Empower you to make important lifestyle changes... you can do it!
*There is a registration fee to participate in the Healthy Strides Community 5k/10k.
Monthly e-Newsletter Subscription
Sign up to receive Healthy Strides news every month! Stay on track for making healthy changes in your life with our helpful articles and tips, as well as our free events schedule. The monthly trivia answers will be revealed and winner will be announced. Quick, easy and useful.
Make healthy strides in your own life by joining the Healthy Strides Wellness Book Club! This club is for adults, and meets at different Fairfax County Public Library sites each month. Discussion on the featured books will be led by a Fairfax County Park Authority fitness and wellness expert, on topics in health, fitness, nutrition and wellness.
RELATED RESOURCES