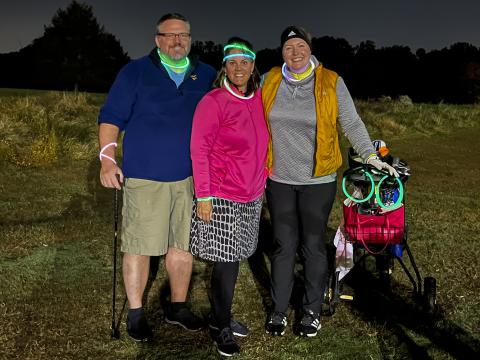 Fall tournament season is officially underway at Golf Fairfax. Take in the fall foliage on the greens with many exciting ways to compete. Golf Fairfax presents two unique tournaments that promise unforgettable experiences for golfers of all ages and abilities.
Shot in the Dark
Mark your calendars for an unforgettable golfing adventure. Burke Lake Golf Center will host their Shot in the Dark Tournament on Oct. 6 and 13. Players ages 12 and up will test their skills golfing in the dark in a 9-hole scramble format tournament using glow-in-the-dark balls. Participants will play in teams of two, illuminating the fairways on their way to the flag. Prizes will be awarded for first-, second- and third-place teams, and closest to the pin.
Cost is $100 per team. Fee is due at the time of registration and includes one glow ball, a flashlight and dinner. May the best team shine bright!
Burke Lake Golf Center is located at 6915 Ox Road, Fairfax Station. Visit the Burke Lake Golf Center webpage for more information.
Four Club Fall Classic
Less is more at Jefferson District Golf Course's Four Club Fall Classic on Oct. 7! Participants ages 18 and up will compete in a 9-hole stroke play tournament. In a test of skill, strategy and adaptability, players are only allowed a maximum of four clubs in their bag. Golfers must make every club count! Fee due at the time of registration. Cost is $35. 
Jefferson District Golf Course is located at 7900 Route 29, Falls Church. Visit the Jefferson District Golf Course webpage for more information.
Good luck to all participants. We look forward to sharing this special fall season with you on the greens!
Discover more about these engaging fall tournaments, Golf Fairfax's seven municipal golf courses, golf classes and special events at the Park Authority Golf webpage.