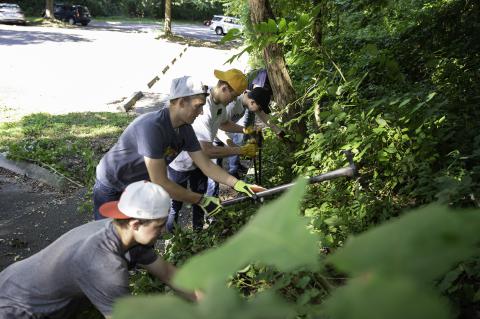 The Fairfax County Park Foundation (FCPF) received a $40,000 three-year grant as part of the Society for Ecological Restoration's (SER) Standards-based Ecological Restoration in Action program to support the Fairfax County Park Authority's Invasive Management Area (IMA) projects at Lake Accotink Park in Springfield, Virginia.
"These grant funds will help support the healthy wildlife habitat at Lake Accotink Park with invasive plant treatment focused on protecting mature trees and increasing the urban forest with more native tree plantings," said Jai Cole, executive director of the Fairfax County Park Authority. "It will particularly help with some of the harder to reach, more difficult to control invasive plants and get to areas that volunteers haven't been able to reach."
"The Fairfax County Park Foundation is grateful for this grant to fund projects that improve natural resources at Lake Accotink Park.," said Bobbi Longworth, FCPF executive director.
The grant will help treat three sites totaling approximately 7.2 acres of invasive plants at Lake Accotink. This IMA project will target vines that are threatening trees and other invasive plants that need to be kept from spreading into healthier sections of the park.
The Fairfax County Park Authority's IMA is a community-based program designed to reduce invasive plants on our parklands. This program engages volunteers and builds a community focused on taking care of natural resources. Since 2006, more than 150 acres have come under IMA management with 65 sites currently active.
"Microsoft is proud to collaborate with the Society for Ecological Restoration to deliver standards-based ecological restoration with the Fairfax County Park Authority in Fairfax County. We are excited to help implement restoration solutions on the ground that benefit both nature and people. This project aims to eliminate invasive plants, plant native trees and shrubs and encourage volunteer stewardship in support of our commitment to support the environmental health of the communities we work in." said Holly Beale, Senior Program Manager for Microsoft.
The Fairfax County Park Foundation, a 501(c)(3), supports the Fairfax County Park Authority by raising private funds, obtaining grants, and creating partnerships that supplement tax dollars to meet our community's needs for park land, facilities, and services. Visit the Park Foundation or call 703-324-8582.
The Society for Ecological Restoration works to ensure that ecological restoration is recognized and utilized as a fundamental component of global conservation, biodiversity and sustainable development programs, and that ecological restoration projects are designed and implemented in a way that provides people with the opportunity to not only repair ecological damage, but also improve the human condition. Learn more about the work and get involved in the network by visiting the Society for Ecological Restoration website.