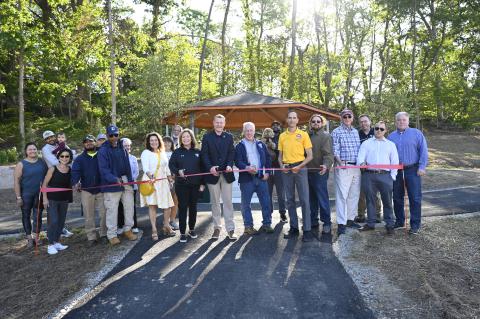 On Saturday, Sept. 16, Fairfax County Board of Supervisors Chairman Jeff McKay and Mount Vernon District Supervisor Dan Storck joined with the Fairfax County Park Authority in celebrating the official opening of the 12-acre North Hill Park. The opening marks a significant milestone in the transformation of North Hill from an underutilized parcel to a vibrant residential community.
"From the very beginning, North Hill Park has been a critical component of what was envisioned for this community as a space that ties the surrounding neighborhoods together and adds to the quality of life enjoyed by all," said Park Authority Deputy Director Sara Baldwin. "We all need space to recreate, exercise and recharge within our communities; and North Hill Park offers so many ways for residents to find physical, social and emotional well-being within just a few minutes' walk from their homes."
"I remember riding through this area as a boy, and when it closed, there was this promise that was coming of more affordable housing and we've certainly done that," added Chairman McKay. "Not only have we built high-quality affordable housing, but with this park, we've connected several surrounding neighborhoods with a space for all residents to recreate in a safe way in a public park that is accessible to all."
North Hill's hilly topography made for quite a challenge in constructing an accessible and complete park experience, but in the end, the result proved worth the effort. The park incorporates a variety of community amenities, including a large community playground, outdoor fitness area, basketball and pickleball courts and a large open lawn and pavilion. All are connected by a winding trail system perfect for walking, jogging and biking.
"Residents are already making great use of the trails and amenities and have really embraced it as an important feature within the community by giving of their time to take care of it," said Mount Vernon District Supervisor Dan Storck. "The path, park and amenities provide much needed open space for residents of North Hill, Cherry Arms, Dart Drive and other communities to connect and come together."
See a video of the ribbon-cutting below.
To see more photos of the official opening, visit the Park Authority's Flickr page.
The park was initially opened for public use earlier this summer. The total project cost was $3 million, with funding provided by the Fairfax County Park Authority and the Redevelopment and Housing Authority.
North Hill Park is located at 7900 Nightingale Hill Lane in Alexandria. For more information, please contact the Public Information Office at Parkmail@fairfaxcounty.gov.