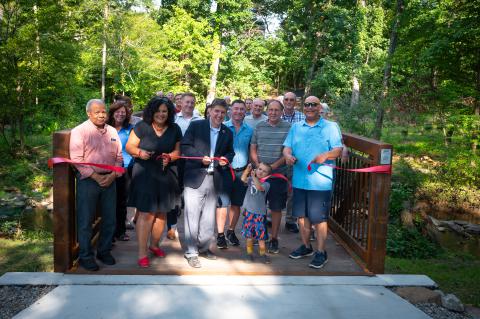 The Fairfax County Park Authority, Supervisor Walter Alcorn and Herndon residents joined to celebrate the official opening of a pedestrian bridge in the section of Sugarland Run Stream Valley Park between Heather Down Drive and Eddyspark Drive just in time for the new school year.
When the Heather Down Drive community was developed in 1987, a bridge was placed at this location to connect the new community to the Sugarland Run Stream Valley Trail on the opposite bank of the creek. The new 10-foot-wide, 75-foot-long steel bridge completed the trail connection, which had been out of service for many years due to flood and storm damage. Thanks to the support of Fairfax County residents, funding for the approximately $740,000 project was included in the 2020 Park Bond.
The project included the demolition and removal of the remaining structures from the earlier bridge, installation of a prefabricated pedestrian steel bridge, construction of 10-foot-wide connecting approaches to the bridge, and related clearing and site work.
"We celebrated National Park and Recreation Month in July, and the theme of this year's observance was 'Where Community Grows,'" reflected Park Authority Executive Director Jai Cole during the ribbon cutting. "I can't think of a more fitting example of how parks and recreation, particularly our trails and bridges, bring communities together and connect residents to a wide range of opportunities, amenities and to one another."
Sugarland Run Stream Valley Trail is part of the countywide trail system. The trail runs from Sugarland Road to the Town of Herndon line. The main trail is approximately 3 miles long with several side trails and neighborhood connections, providing an additional 3 miles of trails. The trail is paved for its entire length.