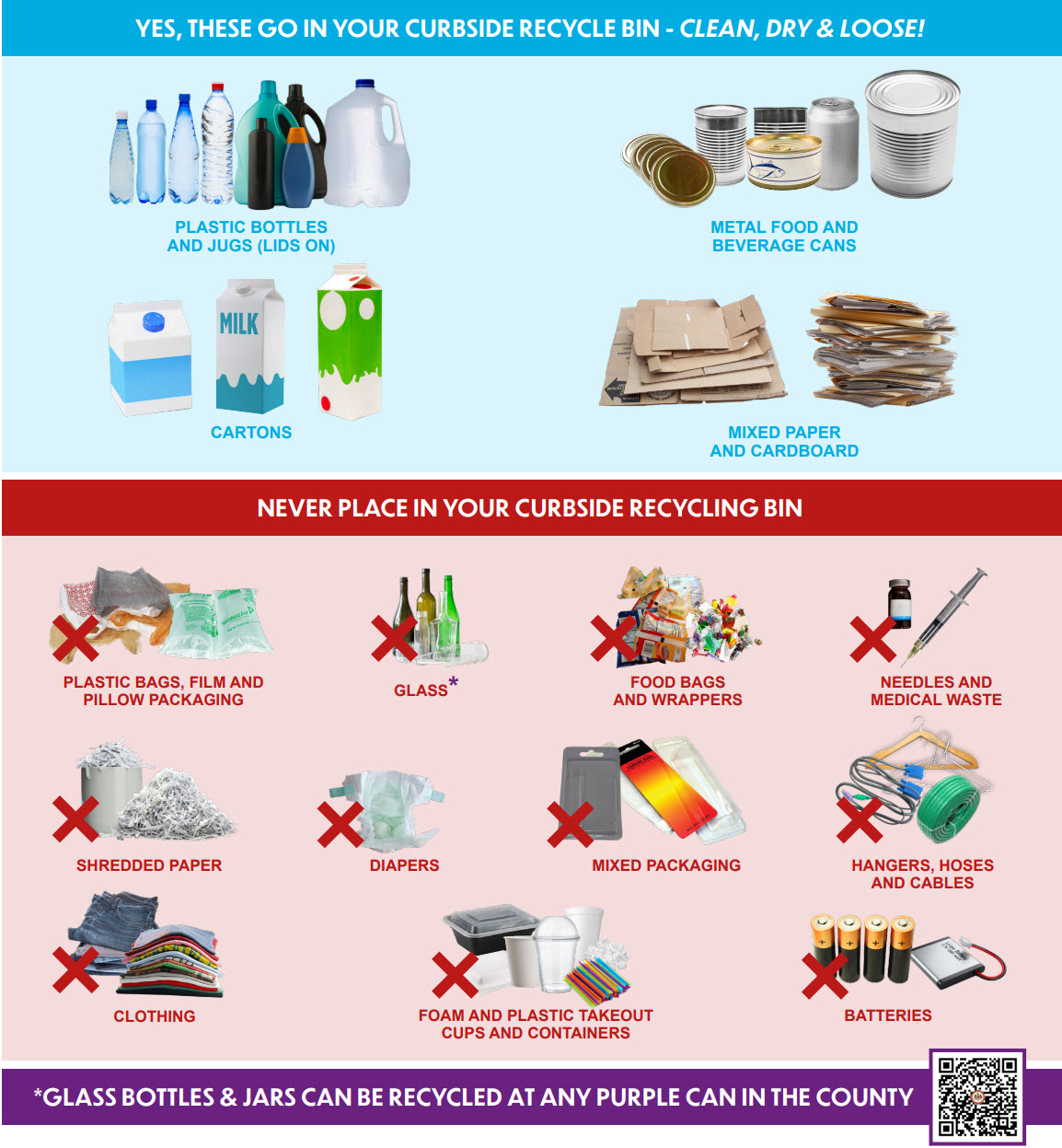 First Reduce the amount of plastic needing disposal. Consider reusable bags for the grocery store and reusable rather than disposable containers for food storage and packing to go. Your purchasing decisions can make a meaningful difference.
Then Reuse plastic containers in creative ways. An internet search for "reusing plastic bottles" will turn up some great ideas for household organizers and craft projects. Many plastic take-out food containers can be washed and reused.
Last Recycle. In theory, all materials are recyclable; however, the curbside recycling program only accepts certain materials. Think before you throw. When in doubt, throw it out.
What gets recycled is dependent on your recyclables collector and what the processing facility is currently recovering and selling. Ninety percent of the recyclables collectors in Fairfax County are private companies who take recyclables to one of the privately-owned processing facilities in the region. 
Put loose (not bagged), clean, dry, empty plastic bottles and jugs (with caps on if you have the cap) in the recycling bin at home or work, or take to a recycling drop-off center at I-66 Transfer Station and I-95 Landfill Complex.
Please take plastic grocery bags to a grocery store with a recycling container to be recycled or place them in the trash. Plastic bags put in recycling get wrapped around the rollers and stop the conveyor belt. Workers then remove the bags by hand. Plastic bags that make it past the rollers contaminate the other recyclable materials.
View ideas to reduce, reuse, recycle Gardening Plastic Pots, Trays and Bags.
The 'RIC Number' located on your plastic does not indicate whether something is recyclable or not; it simply indicates the type of resin that the product is made from.
Trash
Used plastic wrap, or cling wrap, disposable plastic baggies and wrappers should be thrown in the trash.
Need more information?
If Fairfax County Government collects your waste, visit American Disposal Services FAQs and Throwaway tool for answers on what is and isn't recyclable.
If a private company collects your waste, please contact them directly for specific instructions.