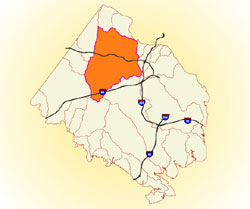 Location
Difficult Run is a 57.7-square-mile watershed in the north-central portion of Fairfax County and drains directly to the Potomac River.
Major Streams and Tributaries
Captain Hickory Run, Piney Run, Colvin Run, Snakeden Branch, Little Difficult Run, Rocky Run, Angelico Branch, Piney Branch, Wolftrap Creek and Rocky Run
Unique Features
This watershed is home to Wolf Trap Farm Park and part of Great Falls Park. It is crossed by several major highways, including Leesburg Pike, I-66, Route 50, and the Dulles Access Road, and by the W&OD Trail. It contains four manmade lakes: Lake Anne and Lake Fairfax on Colvin Run, and Lake Thoreau and Lake Audubon on Snakeden Branch. Difficult Run flows through a wide variety of watershed conditions, from forest to urban areas. Just before its empties into the Potomac River, it flows through a narrow, cliff-lined valley. Difficult Run is the largest watershed in Fairfax County.
Difficult Run Watershed Management Plan
The Difficult Run Watershed Management Plan was adopted by the Fairfax County Board of Supervisors on Feb. 26, 2007.
Full Plan (19 MB)
Concept Plans Per Subwatershed
Appendices
Several projects have been completed or are under development from the watershed plan. Please see the project list website for a list of these projects. 
For additional information, please email the Stormwater Planning Division or call 703-324-5500, TTY 711.