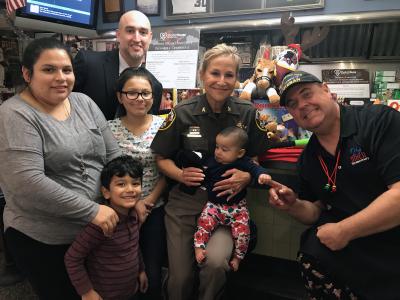 Service with a smile! Fairfax County Sheriff Stacey Kincaid and her deputies proudly joined the 29 Diner's Season of Giving Holiday Dinner Celebration, benefiting Shelter House families.
During the week of December 18, 2017, the 29 Diner will be closed to the public during the dinner rush to provide a sit-down holiday meal for 60 families residing in emergency shelters. In addition to helping serve meals, the Sheriff's Office is providing books and making child ID cards for all of the children taking part in the holiday dinner celebration. 29 Diner and its many supporters are distributing gifts all week and ensuring that the families will be well-fed throughout the holiday season.
Sheriff Kincaid is a long-time supporter of both 29 Diner and Shelter House. "I have known 29 Diner owner, John Wood, for many years," said Kincaid. "He is a strong supporter of public safety, active military and veterans. He also hosts fundraisers for schools, their sports teams, charities and local nonprofits. John is one of the most generous persons you will ever meet." Kincaid is often seen at 29 Diner serving free meals to veterans.
Wood said that Kincaid came to him 18 months ago and asked him to help her raise awareness about a project that was near and dear to her heart. The organization was Shelter House. "She said to me, 'Please help us to help the families who live in the emergency shelters.'"
The Sheriff's Office has partnered with Shelter House since 1992, with the start of Shop with the Sheriff. In addition to sponsoring this annual back-to-school shopping event for children who are homeless, the Sheriff's Office supports shelters with food and toiletry drives, grants through other partners such as Target, and regular promotion of Shelter House's mission and programs.
Kincaid is on the Governing Board of the Fairfax-Falls Church Partnership to Prevent and End Homelessness.