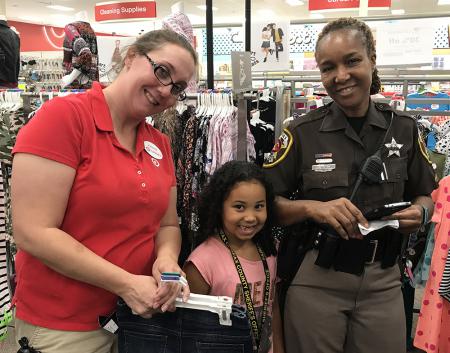 Since 1992, the Fairfax County Sheriff's Office has been helping children who are homeless prepare for a new school year through our Shop with the Sheriff program. A few weeks before school starts, Sheriff's deputies pair up with children from the county's emergency shelters for a back-to-school shopping trip at Target in Burke, VA. The Sheriff's Office raises enough funds through the year from businesses, nonprofits and individuals to give each of 40 children a $250 gift card to spend on clothing, shoes and accessories. A sponsor also provides lunch at the Courthouse before everyone heads to Target.
Sheriff Stacey Kincaid says the event is her favorite of the year. "There is so much positive that comes from interacting with the children and staff from the shelters. Although we are law enforcement, we want the kids to see that we are approachable and that we care about them. The impression we make in just one day can last a lifetime."
Recent Shop with the Sheriff sponsors include:
Target
Paisano's Pizza
Montessori of Chantilly - Casa Dei Bambini
Fairfax County Federal Credit Union
Let's Help Kids
Fairfax Deputy Sheriff Union
Fairfax Sheriffs' Association
Fraternal Order of Police Fairfax Lodge 77
To learn more about Shop with the Sheriff, please email the Sheriff's Office.