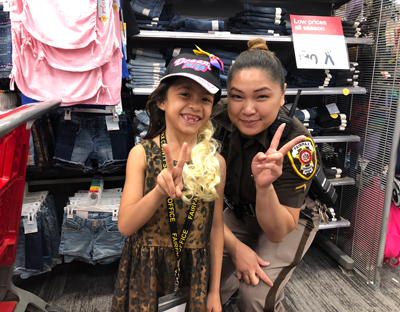 "Taking children who are homeless on a back-to-school shopping trip is a joyful part of our summer," said Fairfax County Sheriff Stacey Kincaid about the 27th annual Shop with the Sheriff event at Target in Burke, Va. "The County's strategies to prevent and end homelessness are having a significant impact. However, until all children are living in permanent housing, the Sheriff's Office will continue to do its best to make their lives a little bit easier."
On August 14, 2018, 40 children from the Katherine K. Hanley, Patrick Henry and Next Steps family shelters came to the Courthouse for a lunch-time Paisano's pizza party and get-to-know-you activities. Each child was paired with a Sheriff's deputy or a support staff member. After lunch, the group headed to Target for about an hour of shopping. With guidance from the adults, the children used their $250 gift cards to purchase age-appropriate tops and bottoms, undergarments, shoes, coats and accessories.
Kincaid described what she likes most about Shop with the Sheriff: "It's an opportunity for us to engage with the children, for us to learn about them and their hopes and dreams. Each one has a story to share. They often have questions for us, too. We hope that this shopping trip gives them a sense of pride so they can start the school year right. Every kid needs to feel good about themselves in order to succeed."
The program is funded through donations from individuals, businesses and organizations. To learn more about Shop with the Sheriff, please email the Sheriff's Office.