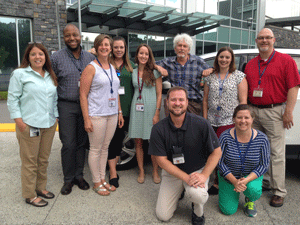 In September 2016, thanks to local funding and support, the Fairfax-Falls Church Community Services Board (CSB) realized a long-held dream and launched a second "Mobile Crisis Unit," or "MCU," expanding its ability to provide on-the-scene emergency mental health services in crisis situations in the community, including emergencies when individuals are unable or unwilling to come to the CSB emergency services office.
"We are ecstatic to have a second MCU," says Belinda Massaro, who manages CSB's Mobile Crisis Units. "This allows us to expand our mobile crisis capability and outreach, to help more people."
Each MCU is staffed by a rotating team of CSB emergency services personnel who travel to the emergency scene in a county car. The primary MCU ("MCU 1") has a two-person team for each shift and operates 7 days a week, from 8 a.m. to midnight. The second MCU ("MCU 2") provides one additional staff member (and vehicle) five days a week (Monday – Friday), from 10 a.m. to 10:30 p.m. The one-person MCU can respond to emergencies in settings that are relatively safe, such as a hospital or jail. This frees up the two-person MCU 1 to respond to situations in higher risk environments, where having a partner is critical.
Launching the second MCU has been an important goal of the county's "Diversion First" initiative, which offers alternatives to incarceration for people with mental illness and other disabilities who come into contact with the criminal justice system for low-level offenses.
"Before we had the second MCU," Massaro explains, "we had so many competing demands on our one MCU, that we couldn't always respond as quickly as people needed."
What are some of those competing demands? "You name it," responds Jim Kelly, CSB emergency services manager.
In addition to responding to requests from individuals and families in the community, the MCUs respond to emergency requests from police and other law enforcement agencies, community colleges, schools, the CIA, Fort Belvoir, Homeland Security, the FBI, the Secret Service, Dulles Airport, and local hospitals. MCU staff is on call 24/7 to respond to hostage/barricade situations and major emergencies in the region when emergency mental health expertise is required, such as occurred at the Pentagon after 9/11. The MCUs also respond to requests for assistance from other Fairfax County government agencies.
"While we still have to triage based upon risk criteria, our ability to respond to the concerned citizen, family member or community based hospital has greatly improved," says MCU supervisor Steven Black.
The MCU can be particularly effective in helping individuals who are hesitant about seeking mental health services, Black explains, giving the example of a homeless veteran who needs mental health treatment but distrusts the VA.
"We are able to help individuals who are reticent about linking to the public mental health system develop the trust needed for them to work with the CSB on linking to treatment. Once this is accomplished, the CSB is better able to assist the individual in linking to comprehensive health care. That truly becomes a win for the individual and for the County as a whole," Black says.
"Families are so grateful for the assistance we can provide in very difficult situations," says MCU Manager Belinda Massaro. "It is very rewarding to be able to intervene in a crucial moment in a person's life and provide some guidance, to affect people in a positive way."
To contact CSB Emergency Services (and the Mobile Crisis Unit) call 703-573-5679. CSB Emergency Services is available 24/7, 365 days a year, and is located at the Merrifield Center, 8221 Willow Oaks Corporate Drive, Fairfax, VA 22031.