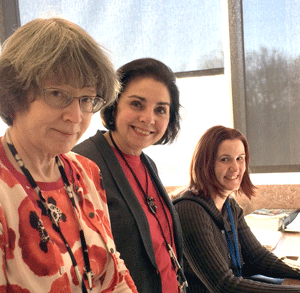 "Save one life you're a hero; save a hundred lives, you're a nurse."
The 47-year-old man looked pale and unwell when he entered the warm, bright, bustling Clozapine and Laboratory Clinic on a busy Wednesday at the Fairfax Falls Church Community Services Board's Merrifield Center recently. He confided in nursing staff, who he's known for many years, that he'd been experiencing abdominal pains for days and did not feel well.
While Peggy Singer, RN, took over management of the clinic, Sue Dempsey, RN, Jennifer Humphries, LPN, and Delores Hockey, RN all immediately tended to him. They checked his vital signs and blood sugar; his blood pressure was low and his heartbeat was high. He was slow to answer questions, was experiencing severe pain and appeared to be "in shock." Nurses became concerned for his well-being and called 9-1-1.
At the hospital emergency room, the man was quickly diagnosed with appendicitis and sent to surgery. In surgery they discovered that his appendix had ruptured which can often be a life-threatening condition. Following emergency surgery and treatment which saved his life, the man is now recovering and spent the holidays at home with family.
People with mental illness can have undiagnosed, undetected physical illness and some effective medications, such as Clozapine, can cause complicated medical side effects that must be closely monitored. Delores Hockey, a psychiatric nurse since 1979, explains "Sometimes, people with mental illness do not immediately seek medical help when needed and may not be aware of serious physical illness. The fact that this man came to us, trusted us, and had a sense that we would help, is extremely gratifying. Our nurses throughout the CSB work hard to build supportive relationships with clients and collaborate with colleagues across the CSB to provide medical and other supports for people we serve. Knowing we played a small part in getting this client critical medical care is extremely rewarding for us," said Hockey.
Hockey describes her CSB colleagues as deeply caring, compassionate and committed to helping people with serious mental illness in their recovery. "I've learned after decades of work in this field: never give up on people diagnosed with mental illness. People do grow, they do recover, and they can achieve their goals and dreams."
Learn about advance practice psychiatric/mental health nursing preceptorship opportunities with the CSB. Visit Fairfax County NEOGOV online for open positions with the Fairfax-Falls Church Community Services Board or on Twitter @FairfaxCSB #work4CSB.