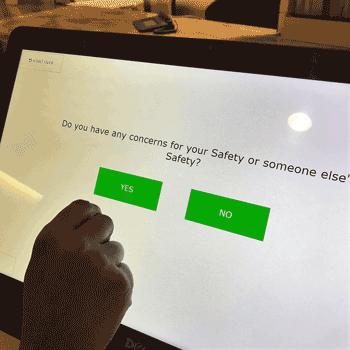 Visitors to the Fairfax-Falls Church Community Services Board's Merrifield Center will notice a new feature when they enter the walk-in screening area: a stand-up information kiosk.
Part of a pilot project, with two more kiosks coming to Merrifield soon, the new feature aims to improve the customer service experience and decrease wait times for individuals who are seeking mental (behavioral) health services.  
Often when people recognize that they need help, there may be a brief window of time when a person is willing to track down and receive help. If a person has to wait too long for services, the chance to help may be lost. 
CSB's Business Operations Director manager Lakeisha Flores says the new kiosks are modeled after what our clients are seeing across the community in medical other health settings. "Visit any urgent care, most doctors' offices, and retail pharmacies and you'll be handed an iPad to fill out your preliminary information. The new kiosk provides a similar service," she said. "Between our business operations and clinical staff, we're working collaboratively to find ways to streamline our processes and provide better, faster services and meet the demands of our community."
After the registration, which consists of five simple questions, the CSB's PatientTrak software alerts staff when an individual has registered with the kiosk for a screening. Based on clinicians' schedules and availability, as well as the needs of the client, individuals are triaged and seen by the next available staff member.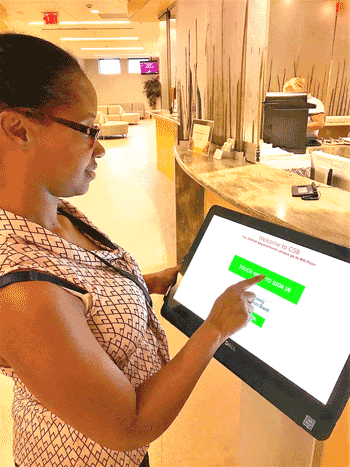 So far the new kiosk is providing service without any problems or delays. On any given day, the CSB's Merrifield Center is a busy place. Individuals of any age seeking help for a mental health and/or substance use concern, may walk in, without prior appointment, to the CSB's Merrifield Center and speak with a staff member face-to-face, rather than initiating contact over the phone.
Roughly an average of 250 adults and 100 youth come to the walk-in screening area of the Merrifield Center each month. Between January and May of 2018, there were 1,276 adults screened, and of those 640 (around half) moved on to receive mental health assessments and initial diagnoses by CSB staff. For youth, in the same timeframe, 577 sought screenings and 449 required additional assessment services. According to Mike Suppa, who manages the CSB's intake area, "We're listening to our clients' needs and feedback; we'll continue to do that." He adds that the demand for CSB services is steady. "Staff reported there were eight clients at our office before we opened our doors at 9 a.m. on Monday morning, the day we implemented the new kiosk. They were glad to see that it worked without a glitch."
The CSB has approximately five licensed clinicians on duty who provide adult screening and assessment services during the CSB's business hours. Additionally, there are other staff members who are available to assist with the walk-in services. For youth, there are two staff members and a supervisor who provide these services.
If you or a loved one has questions regarding services that may be available, contact the CSB at 703-383-8500 (M-F, 9 a.m. to 5 p.m.). In an emergency 24/7, call CSB Emergency Services at 703-573-5679 or the Fairfax Detox Center at 703-502-7000 (TTY 703-322-9080.
Contact Information
Contact for news media inquiries: Lucy Caldwell, Communications Director, 703-324-7006 (office), 703-856-5210 (cell).