"It has been wonderful to have a Parent Support Partner! Because she has 'been there,' she truly understands our experience. We have found strength, connected with helpful community resources and have new hope for the future! – Father of an 11-year-old son
"I was completely overwhelmed and I had no idea where to turn. I wanted to help my child but felt like no one understood what we were going through. My Parent Support Partner listened. With her help and support, I learned how to more effectively advocate for my child. My child is happier and back in school! Our whole family is doing better. – Mother of a 15-year-old daughter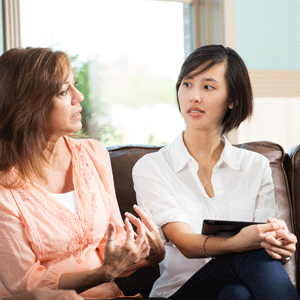 Parenting children can be a challenging and demanding endeavor, and one that can feel especially lonely and anxious when your child is experiencing mental health or substance use issues. In a world of social media and complex societal issues, things can feel emotionally overwhelming. At times, parents may not want to share their thoughts with their own friends of family members, and as a result, they can feel isolated and that they don't know where to turn for help.
But you don't have to feel alone anymore.
A service of the Healthy Minds Fairfax initiative, parents are encouraged to reach out to the new Parent Support Partners (PSP) program for support, understanding, and connections on how to find and access services to help children, youth and young adults feel better and do better.
Parent support partners are people who've been there. They've faced family challenges and have come through to the other side and are now ready to give back. PSP staff are all parents who have received training and are qualitied to offer education, support and assistance. They provide reliable information that families can use in decision-making and are familiar with services and resources that can help families in distress. The PSP is provided at no cost to families or caregivers.
According to national statistics, approximately 36,000 children in Fairfax County communities have a diagnosable mental health condition; including 3,960 with significant impairment. "There may be many perceived obstacles to getting help but Healthy Minds Fairfax is creating a pathway to eliminate these barriers," said Jim Gillespie, Director of Healthy Minds Fairfax. "We urge parents to connect with other parents who've experienced challenges with their children; getting help is getting easier thanks to our caring, generous Parent Support Partners. Please don't hesitate to reach out."
You can call the Family Support Line at 571-458-7310 x103.
Healthy Minds Fairfax is the County's youth behavioral health initiative that coordinates a full range of mental health and substance abuse for families and young people. HMF services and resources connect Fairfax County Public schools, private treatment providers, and multiple county agencies such as the Fairfax-Falls Church Community Services Board (CSB). Since the summer of 2017, Parent Support Partner services have been provided through a unique public/private partnership involving Fairfax County, NAMI (National Alliance on Mental Health) of Northern Virginia, the Virginia Department of Behavioral and Developmental Services (DBHDS) and the federal Substance Abuse and Mental Health Services Administration (SAMHSA).