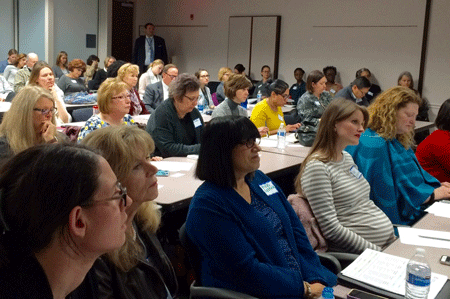 In a room overflowing with parents, service providers, advocates and Fairfax-Falls Church Community Services Board developmental disabilities services staff, an exciting new collaborative was born this week: the Welcoming Inclusion Network (WIN).
Together, WIN stakeholders will work to advance employment and day services for individuals with developmental (and intellectual) disabilities. As our disability population has grown, both in size and differing interests and support needs, the county recognizes the challenges in building equity and efficiency within available resources. The CSB recognizes the need, and the community's desire, for more dialogue and participation from stakeholders and the broader community. In a search for solutions that will help meet the needs for inclusion, accessibility and community support, the WIN was launched on February 26.
Braddock District Supervisor and Chair of the WIN steering committee, John Cook, offered an enthusiastic welcome and introduction. Following a brief WIN overview presentation, an inspirational presentation by Ellen Graham of Cameron's Coffee & Chocolates, there was a detailed discussion of some of the potential themes that will be addressed by the WIN collaborative. Many in the room shared feedback and offered ideas that would help raise awareness to issues surrounding inclusion and individuals with disabilities:
Use terms "individualized" and "person-centered" when speaking about employment and day activity programs.
Create a glossary of terms and definitions.
Look for mentor opportunities and increased business partnerships.
Show what success looks like.
Create a resource bank for care needs.
Ask businesses: What's YOUR inclusion plan?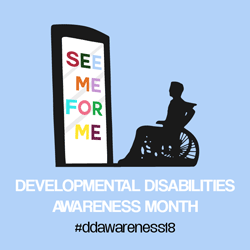 The WIN launch this week highlights March as Developmental Disabilities Inclusion Awareness Month. The goal of the month is to create awareness about developmental disabilities, teach the importance of inclusion within every aspect of life, and to share the stories of individuals with a disability to show that a successful life is possible.
Throughout the month of March, reflect on your business, your community, and your own life. How are you making the world more accessible and more inclusive? How are you celebrating community?
All are welcome to attend the next WIN meeting, Monday, March 26, 6:30 to 8 p.m. at the Fairfax County Government Center.
Questions? Contact Jean Hartman, CSB Assistant Deputy Director of Community Living Treatment & Supports, 703-324-4460.