Veterans are ever present in our community and represent a unique population that has made great sacrifices in the name of service, honor, and commitment. While we hold deep honor for our Veterans every day of the year, we would like to take this Veterans Day to share about the ways Veterans are involved in our community. The vision of the Fairfax-Falls Church Community Services Board (CSB) is that everyone in our community has the support needed to live a healthy, fulfilling life, including our remarkable Veterans. 
Employees at the CSB
The CSB is an equal opportunity employer which means military personnel, active or retired, are encouraged to join our celebrated team. Through internal supportive resources and flexible opportunities, the CSB provides a stable landing ground for Veterans to be matched with in-demand careers while seamlessly being able to attend required military duties.  
Individuals We Serve
With bleak statistics representing the prevalence of mental health and substance use issues among the Veteran population, the CSB is ready and equipped to support those individuals who qualify. Our clinicians are trained to regularly ask new and existing clients if they have a history of military service. By collecting this information, individuals are provided with more individualized care and have a better chance of success in treatment. 
Veterans Treatment Docket
The Veterans Treatment Docket is a specialized program at the CSB that focuses on Veterans' mental health and substance use recovery. In recognition of the toll on Veterans that accompanies military service, the mission of the Fairfax County Veterans Treatment Docket is to serve the community and increase public safety by integrating and incorporating a coordinated treatment response for justice-involved Veterans with substance abuse and/or mental health issues.  The goal of the program is for these Veterans to return to the community as healthy, goal-oriented individuals.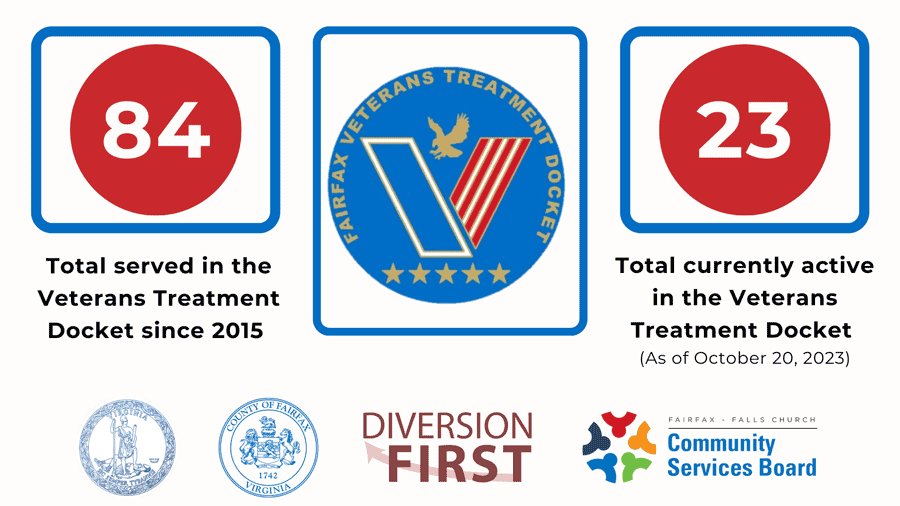 Want to attend a Veterans Treatment Docket Graduation? The next graduation is on November 16, 2023, at 2:00 p.m., in Courtroom 5J at the Fairfax County Courthouse, 4110 Chain Bridge Road, Fairfax, VA. 
To all of the Veterans and their loved ones, thank you for your service and sacrifice. 
If you or a Veteran you know is in need of crisis support, reach out to the Veterans Crisis Line at 988 and then press 1.