(Posted 2023 September)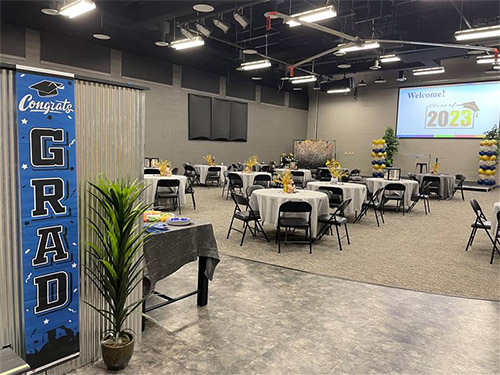 Did you know that nationally, only about half of children in foster care graduate from high school by age 19, and in Fairfax that statistic is only a bit higher at 60%? These graduation rates impact other national outcomes for former foster youth, such as 25% incarceration, 25% homelessness, and 50% unemployment at 24. It's easy to see why graduation takes on greater significance for many youth in foster care as they step out into the world!
Considering these realities, each year the Fairfax County Department of Family Services recognizes youth in foster care who earn their GED or graduate from high school, college, or vocational certificate programs. This year, the celebration hosted by DFS Foster Care and Adoption honored 12 high school graduates and one student who earned her GED.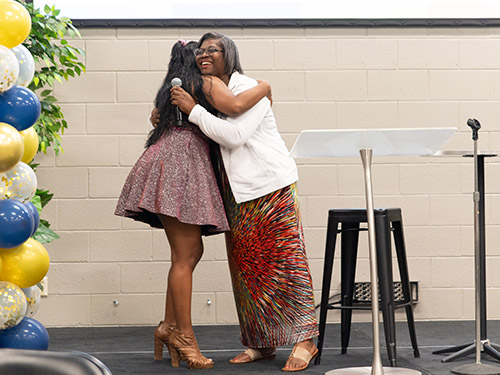 Staff and resource parents were invited to cheer on the happy graduates. Staff spoke about the youths' accomplishments and the ways they worked to overcome obstacles to their success. The graduates are taking a variety of paths in the future, including enlisting in the military, going to community college or universities for post-secondary education, pursuing health care certifications, entrepreneurship, and working in fields involving HVAC, animals, and forensic science.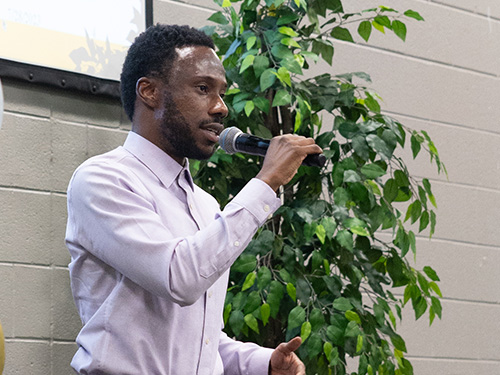 Attendees heard words of wisdom from Tony Hynes, a training specialist with C.A.S.E., the Center for Adoption Resource and Education. Hynes drew from his lived experience as a child adopted from foster care. He reminded the graduates that they should take pride in their accomplishments for what they are, not necessarily through the lens of being in foster care. He encouraged them and emphasized that being in foster care is only part of their story and there is no limit to what they can do.

Charisma D. Canty, independent living coordinator, with Foster Care and Adoption summed it up, "The 13 young adults that we celebrated did not just graduate high school. They were resilient, hardworking, and inspiring to all. Several of the graduates beat the odds to finish school when others thought they would give up. Other graduates were leaders among their peers and shone in academic excellence. They encouraged each other to continue their education and expressed gratitude to all who supported them in their journeys. I felt honored to be a part of their lives, and to help celebrate such amazing, talented, and intelligent young adults." 
This event would not have been possible without the support of the community.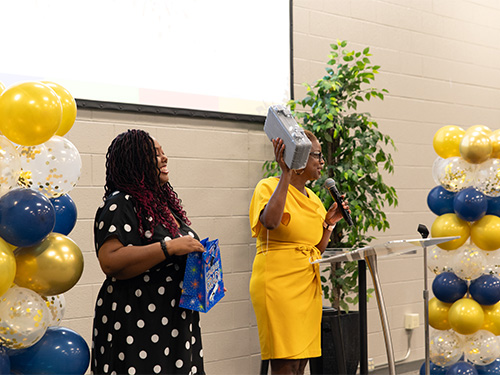 Each graduate received gifts bags containing a variety of items to ease their transition into the next phase of life including gift cards, embroidered towels, an Adidas duffle bag, wireless earbuds, a folio, a pen, a personalized blanket, an FYI Binder, and other essentials. Some youth also received Chromebooks, gift cards, and/or other items they specifically requested. Fairfax County Foster Care and Adoption would like to thank generous donors Hearts and Hands Reaching Out (HHRO), and the Lay Organization of First A.M.E. Church of Manassas for their contributions.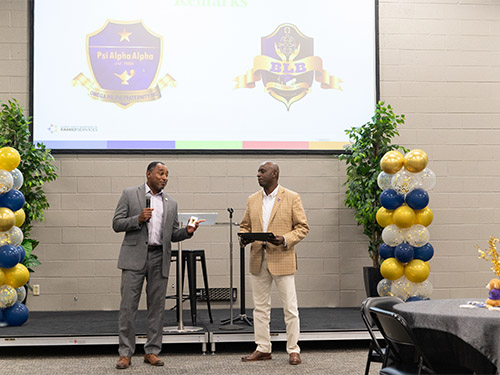 The Bernie L. Bates Foundation, (BLB), Inc. partnering with Psi Alpha Alpha Chapter (PsiAA) of Omega Psi Phi Fraternity provided a certificate of achievement and a gift card to each graduate. Mr. Marvin Chisolm, president, Bernie L. Bates Foundation, Inc. (BLB), and Mr. Ray Buckner, vice basileus, Psi Alpha Alpha Chapter of Omega Psi Phi Fraternity, Inc. presented the certificates. Brad Caldwell, the BLB Director was also there to support the grads.
We'd also like to thank:
Caricature Artists Group for providing an artist at the event.
Melanie Read for her event photography.
Denise Siderys of Denise's Cookie Cassel for her amazing graduation cookies.
Seasons 52 for the delicious desserts.
Cakes4Kids for the gorgeous array of graduation cupcakes.
Harris Teeter and Giant for providing food platters.
Fairfax Church for providing the venue! 
Each of these partners, donors, sponsors, and speakers made this such a special day for each of the graduates who were able to attend. Thank you!