Spotlight on the Permanency and Life Skills Unit
The work of the Permanency and Life Skills Unit in Foster Care and Adoption is all about helping youth in care to find permanent families or establish lifelong connections, and to prepare our older youth to transition to adulthood. Supervisor Maggie Moreland answers a few questions about the unit:
Foster Family News: What is your background as a manager?
Maggie Moreland: I have worked in Foster Care and Adoption for almost 20 years. I have an undergraduate degree in Psychology and a master's degree in Counseling. I started working at a therapeutic foster care agency in the area where I held the roles of Caseworker, Trainer, Placement Supervisor, and Program Manager. In 2012, I moved to the county as a Permanency Coordinator. After having served so many years at a non-profit, I was excited to see how the system worked at the county level. In 2017, I was promoted to the supervisor of the Permanency and Life Skills Unit.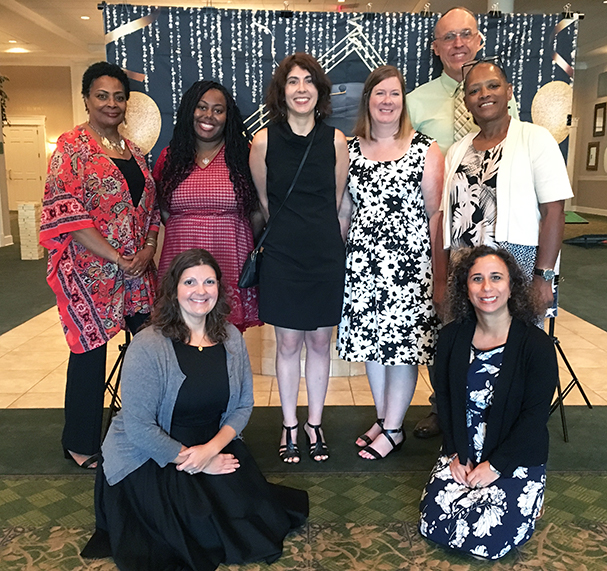 FFN: What is the structure of your unit?
MM: Our unit is made up of eight people. We have three Independent Living (IL) Coordinators (Chuck Berlin, Charisma Canty, and Stella Serian) and two Permanency Coordinators (Ann Kim and Natalie Sposato). We also have a Family Search Worker (Doretha (Doe) Countee) and our Administrative Assistant (Marilyn Morales). I (Maggie Moreland) am the unit supervisor.
FFN: What is the goal of your unit?
MM: The Permanency and Life Skills Unit is one of five units within the FC&A Resource and Support Program. The Permanency and Life Skills Unit provides two services. Permanency Coordinators help youth in foster care to achieve legal permanency (reunification, placement with relatives, or adoption), if possible, or to develop lifelong connections prior to exiting foster care. Our Family Search Worker, Doe Countee, is an important part of our permanency team and conducts all our searches to find relatives.
Independent Living Coordinators assess, develop and strengthen the independent living skills of youth over 14 and under 21 years old receiving foster care services. They offer monthly workshops as well as individual case management support to teach children skills such as budgeting, cooking, healthy relationships and employment skills.
Our hope is to reduce the number of youth who leave foster care without permanent families or lifelong connections and to prepare our older youth to transition to adulthood.
FFN: Do you provide other supports?
MM: We also provide two summer employment programs for youth age 16 and up. Youth participate for 4-8 weeks and learn work skills while having an opportunity to shadow or intern at a work site. The youth are paid.
Our unit is also responsible for the management of state funding (Chafee Program IL Funding and Education and Training Vouchers). Youth over the age of 14 may be eligible for certain funding to support their independent living needs (high school expenses, college expenses, first apartment expenses).
FFN: How many people does the unit serve?
MM: The Permanency Coordinators serve around 50 youth, and the IL Coordinators serve around 100.
FFN: What are the ages of those you serve?
MM: Permanency Coordinators serve all ages, but focus on older youth, large sibling sets, or younger youth with significant medical, behavioral, or emotional needs.
FFN: What is one thing you want people to know about your unit?
MM: All youth in care have the right to legal permanency and lifelong connections, as well as to be prepared to transition to adulthood. Our workers are here to support these efforts. We have a wealth of knowledge and resources in our unit so don't hesitate to talk with your worker about these services.
FFN: How can they reach the unit?
MM: All youth over the age of 14 have an IL Coordinator assigned to them and may be eligible for funding and services. If they are not aware of these supports, I would encourage them to talk with their worker for more information about these services and to get the contact information for their IL Coordinator.
Permanency cases are referred by the worker since we are only able to carry a certain number at a time.
Any questions or concerns can be directed to Maggie Moreland at 703-850-9294.
---
This article posting is part of the Foster Family News monthly newsletter designed to keep foster parents informed about all the new and notable happenings in Fairfax County.
Learn about what the Foster Care & Adoption program has planned for foster families - stay on top of trends, participate in trainings and learn about policy changes.