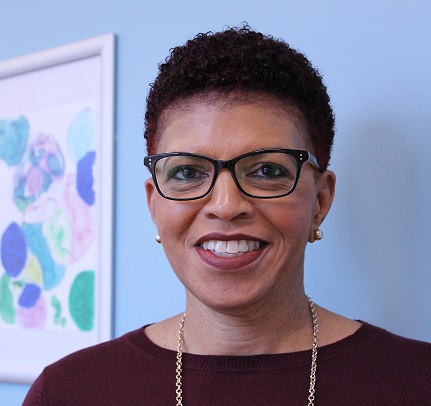 Lewinsville Adult Day Health Care recently welcomed a new Center Nurse Coordinator, Marlese Clifton. Marlese was previously director of nursing for the Fairfax County Adult Detention Center where she directed a team of 45 nurses who cared for the diverse needs of about 1,000 inmates each day. Her joining Adult Day Health Care represents a return to the genre of health care where she started her career: gerontology.
"When I was 12, my great grandmother had a stroke which left her debilitated. I became responsible for her personal care – straightening the house, helping her bathe, making her meals. And, I absolutely loved it. I never once thought of it as a burden. It was through this experience that I knew I wanted to be a nurse, and that I wanted to work with older adults," Marlese said.
While still in high school, Marlese worked at a nursing home in Prince William County. She found herself spending all of her break time with residents. "I would have lunch with them and listen to their stories," she commented.
Marlese went on to earn various nursing degrees from the ground-up. Starting with certifications as a nursing assistant, licensed nurse practitioner (LPN) and registered nurse (RN), she went on to achieve a bachelor of science in nursing from George Mason University.
Her experience is diverse. In addition to the Fairfax County Adult Detention Center, Marlese has worked in hospitals, rehabilitation centers, assisted living facilities, and acute nursing facilities.
Marlese lives in Culpeper and is overseeing nursing and operations at Lewinsville Adult Day Health Care. Each day, she is part of a team who cares for participants in the program, which is located in McLean.
Welcome Marlese!