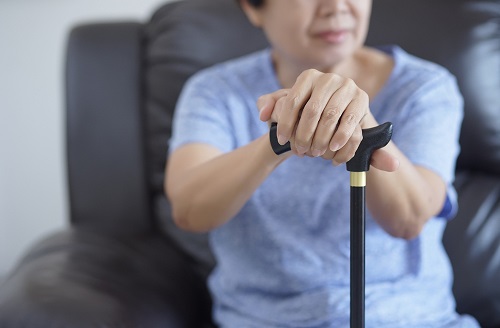 Falls are not a normal part of aging. In older adults, falls can jeopardize an individual's safety and independence. Falls account for 70 percent of accidental deaths in individuals who are age 75 and older.
Research shows that less than half of older patients who fall do not tell their physician.
Risk factors for falls in older adults include:
Increasing age
Use of four or more medications
Cognitive impairment
Sensory deficits
Muscle weakness
Stiff joints
Pain
Fear of falling
History of falls
Presence of two or more chronic illnesses 
Data from The National Council on Aging indicates:
1 out of 4 individuals age 65 and older falls each year 
Every 11 seconds, an older adult is treated in the emergency room for a fall
Every 19 minutes, an older adult dies from a fall
Falls are the leading cause of fatal injuries in older adults 
According to the Center for Disease Control (CDC), individuals suffering from dementia are eight times more likely to fall compared to individuals without dementia.  
Research shows that less than half of older patients who fall do not tell their physician. For this reason, it is very important that you notify your loved one's primary care physician of a fall, even if there are no injuries. The doctor will assess your loved one to rule out a new medical condition, medication issue, or eyesight problem. The doctor will also look for any injuries and fractures that you might not be aware of, and might recommend physical therapy, or other measures to prevent falls.
Caregivers concerned about falls should take our Falls Risk Quiz. It can help you determine if your loved one is at a greater risk to experience a fall. 
And remember, we are here to help. At Adult Day Health Care, we seek to minimize your loved one's risk of a fall, improve their quality of life, and maximize their ability to remain independent.
SOURCES: NCOA.org; American Family Physician; CDC; American Journal of Preventative Medicine.