Martha Armstrong has cared for hundreds of older adults during her 35+ year career as a recreational therapist with the Health Department's Adult Day Health Care Centers. But her experience with Winnie Spencer and Geneva Walker is one that remains special to her heart.
These two sisters were under Martha's care at different times during the 1990s and early 2000s. They were former teachers. You could tell they were very strong women who never let things get in their way, said Martha. And, as Martha got to know the sisters, she became deeply inspired
as she learned about the obstacles they had overcome — and the living history they represented.
A One-Room Schoolhouse, A Better Life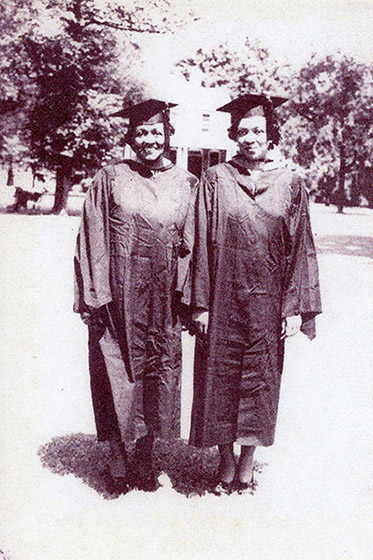 Winnie's and Geneva's grandfather was William Jasper, a slave born on Hayfield Farm who was freed in the 1840s. He went on to purchase 13 acres of land in what is now the Franconia. One-half acre was deeded for a school for African-American children, which William and neighbors built themselves — sans funding from the county.
The one-room schoolhouse — initially named the Laurel Grove Colored School — was attended by Winnie and Geneva. The motto of the school was that if you get an education, everything else will fall into place. You will have a better life, said Phyllis Walker Ford, President, Laurel Grove School Association. Phyllis is Winnie's and Geneva's niece, and served as their primary family caregiver.
Winnie and Geneva attended the Laurel Grove Colored School until seventh grade. There were no high schools for African-American children in the area, recounted Phyllis. But that didn't stop the sisters. The District of Columbia had African-American high schools, so, using a relative's address on their registration forms, they enrolled and took the train from Franconia into Washington every day.
Nothing Gets in Their Way
After high school, Winnie and Geneva went on to earn teaching degrees from Virginia State College (now Virginia State University). They attended New York University for master's degrees, since these were unavailable to them in the state of Virginia.
Winnie and Geneva enjoyed decades-long teaching careers in Fairfax County Public Schools. Winnie retired in the 1960s — and never experienced teaching in a desegregated classroom.
They really enjoyed being with her at the Center, and they loved meeting people and sharing these stories about their lives.
Learning From Living History
Martha recalled a special outing she organized for Adult Day Health Care Center participants to the school Winnie and Geneva attended as young girls. Now named the Laurel Grove School Museum, it was restored in 2000.
Winnie sat next to the old pot belly stove — the same one she sat near some 90 years ago as a student in the school. She told us about the school's history and it was so moving to hear about the struggles African-Americans endured during the turn of the century, Martha recounted.
Winnie and Geneva had a special connection with Martha — so much so that, when Winnie died, Martha spoke at her memorial service. They really enjoyed being with her at the center, and they loved meeting people and sharing these stories about their lives, said Phyllis.
Martha Armstrong is the Recreation Therapist at the Lincolnia Adult Day Health Care Center. She has been with the service for 35+ years. Join us for lunch in Lincolnia, and meet Martha! Email adultday@fairfaxcounty.gov for details.