Hundreds of 50+ adults in Fairfax County enjoy activities and conversation at our 14 Senior Centers each day. But at some point these individuals might need to transition to a higher level of daily care.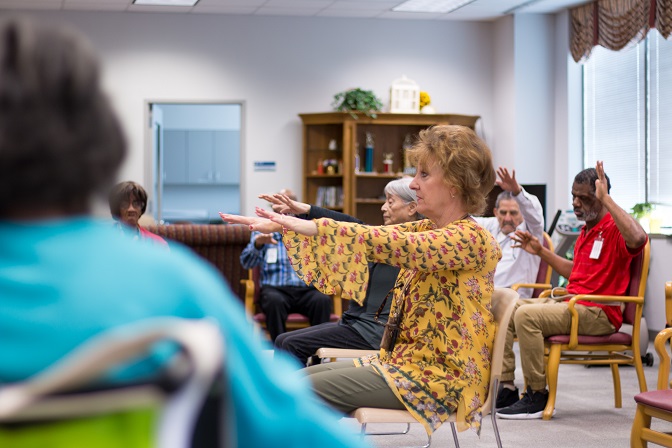 Here are tips for transitioning your loved one:
Get the input of the Senior Center staff: The case managers and recreational therapists know each participant personally. They also are experienced in caring for older adults and are experts at spotting small physical or behavioral changes in someone that could be a signal of a bigger issue. Their input is essential to your care plan.
See your doctor: Bring the input from the Senior Center staff to your doctor, and get a medical point of view. Sometimes behavioral or physical changes denote a health issue, but they could also be indicators of a larger cognitive problem. Your doctor will help you put together the puzzle pieces.
Talk to your family: Decisions to move a Senior Center participant to more advanced care can cause intense family discussions. This is complicated by the fact that not all families are local. The Senior Center case managers are available to help talk to your entire decision making team on transitioning to other care.
Know that the help you need might be next door — literally. Three Senior Centers (Mount Vernon, Herndon and Lincolnia) share a building with an Adult Day Health Care Center. If the Senior Center staff recommends Adult Day Health Care, it's easy to check it out. We can make an appointment for you to enjoy lunch and get a tour.
Above all, remember that aging is not a straight line. Everyone has a plan for how they wish to age, but few of us have total control over the changes our bodies and mind will experience. Aging is a pathway that has many turns in the road, and it is important to recognize if your loved one's needs have changed.
Fairfax County Health and Human Services is here for you! Senior Services and Adult Day Health Care are here to help caregivers. Take advantage of these resources!
Learn more about Adult Day Health Care and other programs and services for older adults.