There are approximately 100 muscles that need to work together in order for human speech to be successful. So, it is no wonder that, by first grade, roughly five percent of children have noticeable speech disorders. And of the myriad of speech-language issues children can have, articulation is one of the most common. 
Articulation refers to the ability to physically move your mouth (tongue, lips, teeth and jaw) to pronounce sequences of speech sounds, which make up words and sentences. But for many children, it is easier said than done.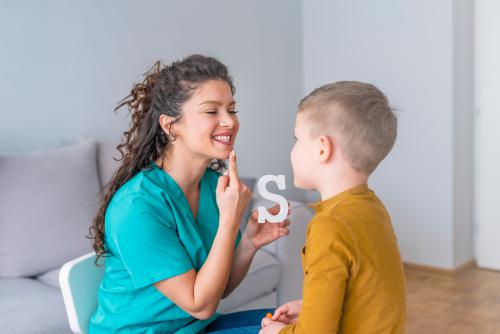 "At first, articulation flubs can seem charming to a parent, who revels in the unique speech of their little one," said Constance Bell, Speech-Language Pathologist, Fairfax County Health Department. "But, it is important to stay attuned to speech development and note if the 'baby talk' is interfering with the child's ability to clearly communicate. An untreated articulation issue can impact academic and social skills as the child ages."
Constance advises parents to consider a speech evaluation if they experience any of the following:
An ongoing need for the parent to translate what the child is saying
A child seems to be frustrated with the ability of others to understand him or her
Other children cannot understand the child
It is also recommended that the parent get the perspective of others in the child's life – a preschool teacher or relative might have valuable information on their experiences.
By age three, a child's speech should be mostly clear and it should be conversational, Constance says. But, while there are certain guidelines to follow, Constance stresses that articulation is about more than just sound creation. 
"We take into account the whole picture of the child – their development, social environment, medical history, and more. No two kids are the same. The way they experience articulation issues can vary. That is why it is important for parents to get a speech screening if they have questions or concerns about their child," Constance said.
Constance says there are a myriad of circumstances that can cause articulation problems, including:
Hearing problems or a history of ear infections that limit the ability of the child to hear and imitate sounds
Oral habits such as thumb sucking or extended pacifier usage which can affect the way the child moves their lips, tongue and jaw
Medical problems such as a cleft palate, cerebral palsy, or something else that promotes muscle or physical difference in and around the mouth
"When it comes to screenings, earlier is always better. Parent education will help guide future decisions – health care decisions, academic decisions, and social decisions. So, do not delay, get the screening," Constance said.
SOURCE: National Institute on Deafness and Other Communication Disorders