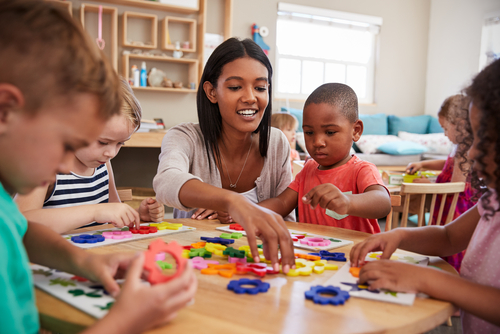 For many kids, speech, language or communication issues tend to become more noticeable during the preschool years when they are likely interacting with new teachers, children and routines. As a result, parents receive additional input from others involved with their child's education – including how a preschooler communicates.
The Fairfax County Health Department's team of speech language pathologists deploys to some local preschools annually to conduct on-site speech screenings.
Speech screenings at preschools
"We want to meet the kids where they are, in their everyday life at school. It's less stressful for them because they are in a familiar environment and among people they trust," said Patricia Ramos Cole, Speech Language Pathologist at the Health Department.
The communication screening gathers information to determine if a more detailed speech and language evaluation is necessary. Screenings are not a tool to diagnose issues; rather, just to gauge if a child needs a more comprehensive evaluation.
What happens in a speech screening?
Speech screenings involve obtaining a top-line medical and social history from the parent. This includes information on the mother's pregnancy and the child's birth, any feeding issues they experienced as a baby, and primary language spoken in the home. The speech language pathologist then engages the child by playing with them and evaluating their interaction and communication.
"At the end of the screening, we might advise that we need additional information in order to determine if intervention is needed. If that is the case, we will talk with the family and look to schedule a follow-up appointment at one of our offices," Patricia said. 
Get a speech screening for your preschooler
Screenings are low-cost, and free for qualified children. Contact the Speech, Language and Hearing team at the Health Department to schedule yours. Preschools are also welcome to contact us to inquire about onsite speech screenings for students.
Patricia Ramos Cole is a speech-language pathologist with the Fairfax County Health Department. She has been working with children for more than 25 years.