A pilot project on Arley Street in Springfield is an environmental success story. With significant community initiative and modest government assistance, 4,300 square feet of asphalt in the Springfield district was converted back to green space.
Community property within the Springfield Station Homeowners Association (HOA) included a deteriorated basketball court which was at the end of its lifecycle and no longer provided a useful benefit to the community. During planning for the community space, residents decided to remove the basketball court entirely. The HOA applied to the Northern Virginia Soil and Water Conservation District's (NVSWCD) Conservation Assistance Program (CAP) for cost-share funding and technical assistance for the proposed conversion of the basketball court to green, open space. The community space is entirely within the Resource Protection Area (RPA) of an unnamed tributary of Middle Run (Pohick Creek) and eventually flows into the Potomac River. The community planned to remove the asphalt surface and reduce the compaction of the soil by adding at least two inches of topsoil and compost.  With this plan in mind, NVSWCD confirmed that the project was eligible for participation in CAP because it promotes infiltration, reduces the potential for nearby flooding, and improves stream health. 
Through a newly established partnership between NVSWCD and Fairfax County's Land Development Services (LDS), the project was able to receive the maximum possible cost-share amount eligible under the CAP. This partnership effectively created the new NVSWCD/LDS Water Quality Improvement Program (WQIP), whereby LDS allocates funding for eligible CAP projects with funds collected under LDS enforcement action, thus improving the environment within the impacted communities where violations previously occurred. The Springfield Station HOA project was the first recipient of funding from the newly launched partnership.
The public-private partnership is one that will be replicated throughout the county for other community association and places of worship projects approved under the CAP program. Thus the 4,300 square feet could represent the first step in projects that occur across the county, improving water quality in every district.  
LDS project lead Brandy Mueller said, "Though small in terms of scale, this project was really a huge endeavor and a great benefit to the community. This new partnership seeks engagement and environmental opportunities. We hope this successful case study will encourage others to pursue similar projects."
Replacing impervious asphalt (which does not allow water to pass through it) with green space results in multiple environmental benefits:
Fields absorb water, replenish the groundwater and slowly contribute to nearby streams whereas asphalt (or other impervious surfaces) divert rainwater to storm drains and sewers.
Fields allow the water to feed the soil supporting trees and other plants and resulting in healthier habitats for wildlife, insects and birds.
Fields are about 30 degrees cooler than asphalt helping cool down surrounding areas.
Learn more about the Conservation Assistance Program.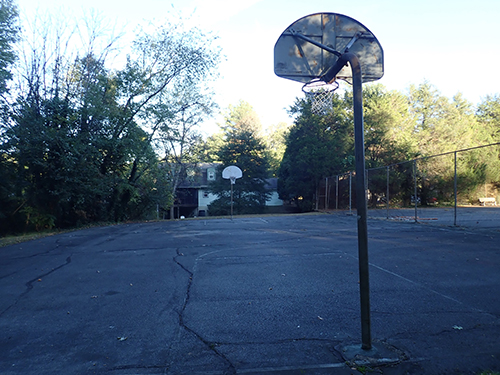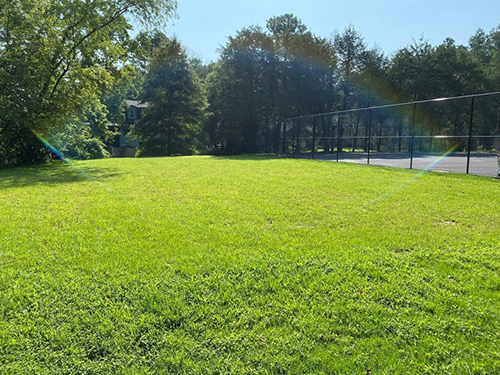 Contact Name
Mary Mulrenan
Contact Information
Public Information Officer
Fairfax County Land Development Services
703-324-2743, TTY 711