Hundreds of people and dozens of exhibitors attended Supervisor Dan Storck's 2nd Annual Mount Vernon District Environment Expo: How YOU Can Act on Climate Change on Saturday, November 16, 2019, from 8 a.m. - noon at Walt Whitman Middle School. Residents from across Northern Virginia had a variety of opportunities to learn about the environmental challenges that we face on a daily basis, including ones that are unique to Fairfax County given our proximity to water, transportation challenges and recent intense storms. Attendees left the Expo with simple actions they can take to make an impact on climate change. Missed this year's event? Watch the video and view the presentations below, then plan to join us next year!
LEARN, ENGAGE and ACT to save our environment! 
Expo Schedule
8 - 11:15 a.m. - Exhibit Hall Open
8 - noon - Electric & Hybrid Car Showcase
9 - 9:30 a.m. - Opening Remarks
9:30 - noon - Film Screening
9:30 - 10:15 a.m. - Concurrent Workshops
11 - 11:45 a.m. - Concurrent Workshops
11:45 - noon - Closing Remarks
Workshop Topics
Drawdown: The Most Comprehensive Plan Ever Proposed to Reverse Global Warming, presented by Beck Modini, Pachamama Alliance
Can we reverse global warming and stop climate change?  What would it take?  What can you do to help?  Come to this introduction to the work of Project Drawdown, which gathered data on 100 actions that lower carbon emissions or take carbon out of the air, and then did the math. The result is a science-based global plan to actually reverse global warming by 2050. Come away with a new framework for thinking about climate change and access to tools for action.
Small Choices, Big Impact, presented by Zach Huntington, Clean Fairfax
Simple steps we can all take to minimize our impact on the planet from the importance of eating local, to the products we purchase, and how we won't be able to recycle our way out of our worldwide litter problem. We'll also discuss how the daily decisions we make can either mitigate the impacts of or contribute to climate change and what strategies are the most effective in addressing systemic climate challenges.
Reducing Your Carbon Footprint Through Energy Efficiency, presented by Elenor Hodges, EcoAction Arlington
Learn about reducing your carbon footprint whether you live in a single-family house, townhouse, condo or apartment. The presentation will focus on energy and water efficiency in the home, detailing techniques to reduce energy and water use through sealing air leaks, installing energy-efficient lighting, and switching to low-flow water devices in the kitchen and bathroom. We will also discuss the energy use of a variety of household appliances and learn how to measure how much energy each one uses with a kilowatt meter. View the presentation...
Flooding, Storm Surge and Sea Level Rise—Tools for Living with the Water, presented by Molly Mitchell, Virginia Institute of Marine Science
This workshop will take look at the changing flood threats from sea level rise, changing precipitation, and increased development.  We will discuss the tools available to help project storm surge flooding and future sea level rise impacts and discuss how these tools can be used in decision making.
"The 4 R's" Refuse, Reduce, Reuse, Recycle, presented by Eric Forbes, Fairfax County Solid Waste Management
"The 4R's" will cover what we all can do to help reduce our waste footprint as well as the services the Solid Waste Management Program provides for Fairfax County residents.
The Right Tree in the Right Place, presented by Jim McGlone, Fairfax County Urban Forestry
Trees have an important role in reducing the impacts of climate change. Attend this workshop to learn about the native trees that thrive in our region and where best to plant these.
Adding Habitat Value in our Gardens:  Mow less, Grow more!, presented by Joanne Hutton and Tami Scheiffer, Plant NOVA Natives 
Climate change challenges ecosystems everywhere. Come learn how your garden can cut emissions and support disappearing species, such as birds and butterflies, which are affected by urban development and changing weather, as well as others whose numbers are plummeting and whose disappearance threaten a sustainable future. We will discuss programs and resources to help the home gardener as well as homeowner associations.
Avenues to Better Air Quality, presented by Tom Reynolds, Fairfax County Department of Transportation
Traffic congestion and tailpipe emissions combine to be a major contributor to greenhouse gases in the region. Fairfax County is progressing down several 'avenues' to reduce congestion and improve air quality. Learn how individuals can play a part in the County's efforts to reduce emissions, shift the mode share away from single occupancy vehicles, take advantage of a growing pedestrian/bicycle environment and see how transit is being considered in new developments. 
Check back for updates!
Electric & Hybrid Car Showcase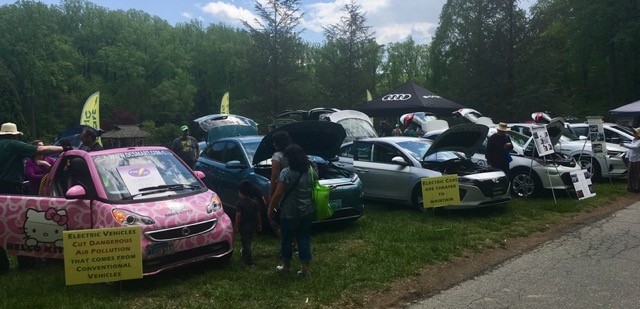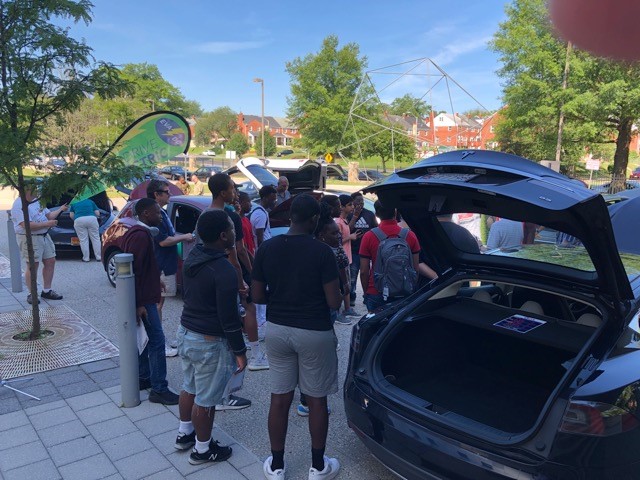 Interested in exhibiting in our Expo Exhibit Hall next year? Contact Camela Speer.
Download and share the flyer...