Plan Amendment 2021-IV-LP1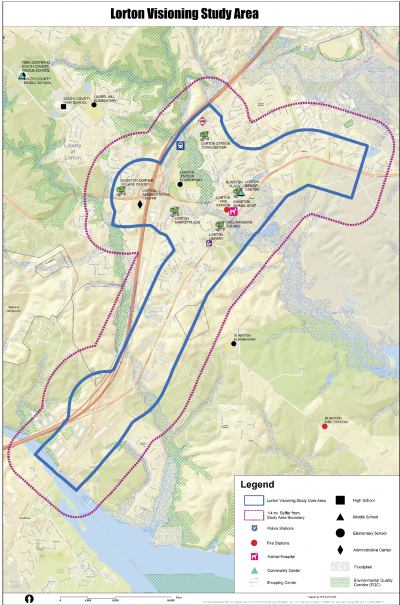 The County is undertaking the Lorton Visioning 2040 study to bolster the sense of place within the Lorton community over the next 20 years. The study will identify and analyze existing and future assets and resources within the Lorton area, and evaluate and recommend revisions to the Comprehensive Plan for land use, placemaking, parks and recreational areas, environmental corridors, historic resources, public facilities, multi-modal transportation infrastructure, and other supporting infrastructure that reflects the community's future vision. 
On January 26, 2021, the Board of Supervisors authorized the consideration of a Comprehensive Plan amendment for the Lorton area, in the Lower Potomac Planning District, LP2 Lorton-South Route 1 Suburban Center of the Comprehensive Plan, and the Mount Vernon Supervisor District. The focus will be placed on the Lorton Road area east of Silverbrook Road including the Lorton Town Center, and the Route 1 corridor from Fort Belvoir to the Occoquan River. 
The adopted Comprehensive Plan for land use in the Lorton-South Route 1 Suburban Center area recommends a "town center" concept near the Virginia Railway Express station and includes "gateway" locations, high quality building design, residential areas at a variety of densities, and park spaces that are balanced with the legacy industrial areas, public facility use, recreational area, and environmentally sensitive areas. The adopted Plan envisions that these uses should work in concert to create a comprehensive and interrelated community.
Commissioned by Mount Vernon Supervisor Dan Storck, a community task force has engaged the larger community, with assistance from staff, to begin work on study. The study is expected to be concluded in winter 2023.