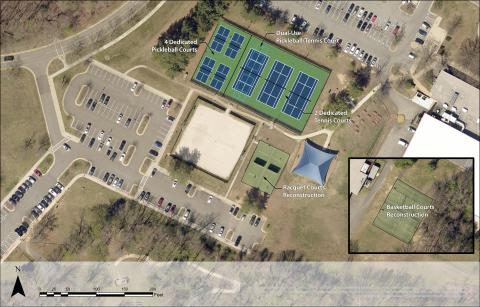 The Fairfax County Park Authority will soon begin work to resurface the racquet and basketball courts at Franconia Park. The contactor, ATC Corp, is expected to start construction on or about Wednesday, Oct. 4 and is estimated to run through mid-November, weather permitting.
The project will include the removal and replacement of asphalt surfaces, goals, fencing and related court amenities. The project will also include the conversion of one of the existing tennis courts to four permanent pickleball courts and a second tennis court dually lined for use as a tennis court or two pickleball courts. These added pickleball courts are among several courts under development or recently completed, which were outlined in the 2020 Comprehensive Pickleball Study.
The courts will be closed for the duration of the project. During the closure, guests are invited to utilize the new online Park Amenity Locator to identify alternate courts to use during this temporary closure. To access this resource, visit the Park Amenity Locator website.
The project will cost approximately $473,413.
Franconia Park is located at 6601 Telegraph Road in Alexandria. For more information about the project, please contact the Public Information Office at Parkmail@fairfaxcounty.gov.