ANNOUNCEMENT
The Fairfax County Park Authority (FCPA) seeks the public's input on how to provide for the emerging sport of pickleball and invites participation in an online survey. The survey will be open through January 24, 2021.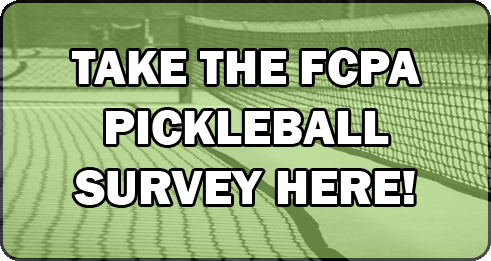 BACKGROUND AND PURPOSE
County agencies have received numerous requests from the public to provide additional pickleball facilities within its parks, RECenters, and community centers. In response to requests and the growing interest in this emerging sport, the Park Authority has initiated a pickleball feasibility study.
The Park Authority began accommodating pickleball by refurbishing existing tennis and multiuse courts to allow multiple sports, including pickleball. We now have nearly 30 outdoor courts lined for pickleball throughout the County. RECenters and community centers add additional indoor pickleball court areas, through striping of gym areas.
The Pickleball study will:
Determine how to equitably address pickleball requests;
Identify sites for potential improvements to existing courts or parks to host new facilities; and
Develop siting criteria and design guidance that will assist us in site selection and feasibility analysis when considering pickleball locations.
Given the need to balance competing the recreational needs of our residents, the Park Authority recognizes the requirement for a more strategic, equitable, and sustainable approach to providing for pickleball. To this end, our staff, in coordination with the Department of Neighborhood and Community Services (NCS), began a formal feasibility study on this topic in Summer 2019.
STUDY SCHEDULE
The study is underway and will be completed by Spring 2021.

PUBLIC INPUT
The public is invited to share their thoughts on pickleball using the online survey, or by contacting the study project manager, Ryan Stewart (Ryan.Stewart@fairfaxcounty.gov). Staff has also met with pickleball advocates and related stakeholder groups and has been responding to individual inquiries.
FOR MORE INFORMATION
If you would like to learn more about the study, please contact Ryan Stewart (Ryan.Stewart@fairfaxcounty.gov)
To find pickleball courts, please use our Park Locator online map.  Turn on the "Pickleball Lined Court" filter to see which parks have a tennis or basketball court lined for pickleball.
Comments
Comments regarding the Pickleball Study can be emailed here.