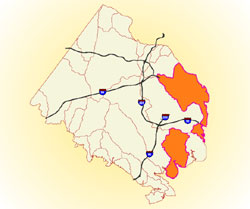 Location
The Belle Haven, Dogue Creek and Four Mile Run watersheds (2.8 square miles, 19.4 square miles and 30.1 square miles, respectively) are located in the southeastern portion of Fairfax County and drain directly to the Potomac River. The Belle Haven watershed goes through Dyke Marsh before reaching the Potomac River, the source of drinking water for many residents.
Major Streams and Tributaries
Dogue Creek: Major tributaries include Barnyard Run, North Fork and Piney Run.
Belle Haven: The major tributary is Hunting Creek.
Four Mile Run: The major tributary inside of Fairfax County is Four Mile Run lower mainstem
Unique Features
This watershed group includes a portion of Fort Belvoir, the U.S. Coast Guard Reservation and Huntley Meadows Park. The majority of Four Mile Run lies within Arlington County or the City of Alexandria, which are outside the jurisdiction of Fairfax County.