On This Page
BANDED KILLIFISH - Fundulus diaphanous
BANDED KILLIFISH

Scientific Name: Fundulus diaphanous
Fairfax County Native: Yes
Size: 3 inches, rarely larger
Diet: Midge larvae and microcrustaceans
Distribution sampling sites: Map
The banded killifish favors slow moving streams and tidal areas. With its tendency to swim just below the surface of the water and its lack of dorsal spines, it has become one of the northern snakehead's favorite prey.
MUMMICHOG - Fundulus heteroclitus
MUMMICHOG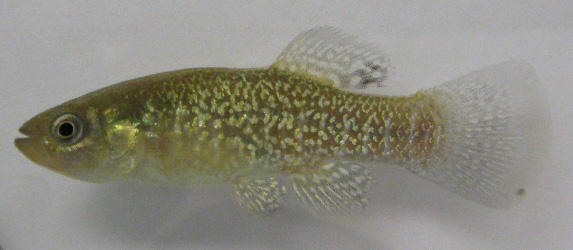 Scientific Name: Fundulus heteroclitus
Fairfax County Native: Yes
Size: 3 inches, rarely larger
Diet: Probably similar to the banded killifish diet of midge larvae and microcrustaceans
Distribution sampling sites: Map
The mummichog is a species of killifish that mainly lives in estuaries with a small number of freshwater populations. The name mummichog is derived from an Indian term meaning "going in crowds." This refers to its propensity of travelling in large schools.