Rain Garden Guide and Workshops Educate and Inspire Action
Gretchen Stark is an avid gardener and she has a keen eye for photography. Last May, Stark also became the owner of a rain garden.
Stark had attended a rain garden workshop in March, which was given by the Northern Virginia Soil & Water Conservation District, Arlington County Dept. of Environmental Services, and the Northern Virginia Regional Commission. Rain gardens, she learned, collect stormwater runoff and allow it to filter through the soil, removing pollutants and recharging groundwater. By the time she left the workshop, she saw that a rain garden could help with an ongoing issue in her own neighborhood.
Rain Gardens: How Do They Work?
A rain garden collects, stores and filters stormwater runoff, helping solve drainage problems and recharging the groundwater.
The features of a rain garden include a ponding area, a layer of mulch, well-drained soil, and a berm or overflow structure. The soil should have a good infiltration rate, with compost and/or sand improving porosity. An inflow structure can be used to bring water from a downspout or sump pump. A gravel bed and underdrain are optional features that can help enhance drainage. Drought-tolerant native plants are recommended.
Stark's property comes together with several of her neighbors' yards at a critical point for stormwater. When it rained, runoff from a portion of their yards formed a channel of water which rushed through Stark's backyard and into a yard inlet. From there, the storm flow was carried into local streams.
On Stark's request, Asad Rouhi, NVSWCD's Urban Conservation Engineer, visited the site to give recommendations on the placement and size of a rain garden. With his advice, Stark arrived at a plan. The rain garden would be located along the far side of her backyard, bordering existing flower beds and landscaping. Stark called in Charlie Cuevas of Potomac Home Services, who had done work for her in the past, to help with the project.
On one sunny day in May, Cuevas arrived with two other men, wheelbarrows, picks and shovels. The team dug out the first eighteen to twenty inches of clay soil, which they carted out in wheelbarrows and loaded into an empty truck to be used as fill dirt on another project. They brought in gravel to line the bottom of the rain garden. A mix of shredded leaf mulch and compost was put on top of the gravel, with a layer of leaf mulch added on top. Together, they were able to complete the rain garden in a single day. Cuevas explained, "We enjoy the final product of the rain garden because it solves a lot of [the homeowner's] drainage and water issues. The customers are generally very pleased with the results."
Already on her way to becoming a certified master gardener, Stark spent the most time carefully researching and choosing what she would plant in the new rain garden. She started by taking a close look at what she already had. In fact, she was able to plant much of the rain garden's new vegetation by thinning other sections of the garden that lines the edges of her yard. Stark settled on a mix of plants that would be drought tolerant, deer resistant, provide habitat and also bloom throughout the year. She included natives like orange butterfly weed (Asclepias tuberosa), red bee balm (Monarda didyma), pink obedient plant (Physostegia virginiana) and goldenrod (Solidago).
Now, six months later, how is the rain garden doing? Because of the summer drought, Gretchen Stark explains that the rain garden plants are on the small side, but they are attractive (see top photo) and Stark expects them to fill in more as time goes on. She was pleased to see that the rain garden has been able to handle the runoff from nearly all rainstorms since installation. The area has been transformed, providing both stormwater control and a space that adds color and beauty to her yard.
Following the construction of Gretchen Stark's rain garden. From left to right: Charlie Cuevas and his team dug the rain garden using manual labor because a backhoe would not fit through Stark's trellis. First, they put plywood down to protect the yard and marked off the rain garden area with spray paint. They dug out the first 18-20 inches of soil, saving the small stones they found to line the bottom of the rain garden together with about 80 lbs. of gravel. They filled in the area with leaf mulch and organic soil. By mid-afternoon, the rain garden construction was finished at a cost of about $1,000. Stark selected plants and put them in herself.
Rain Garden Guide Educates, With Help from a Young Conservation Leader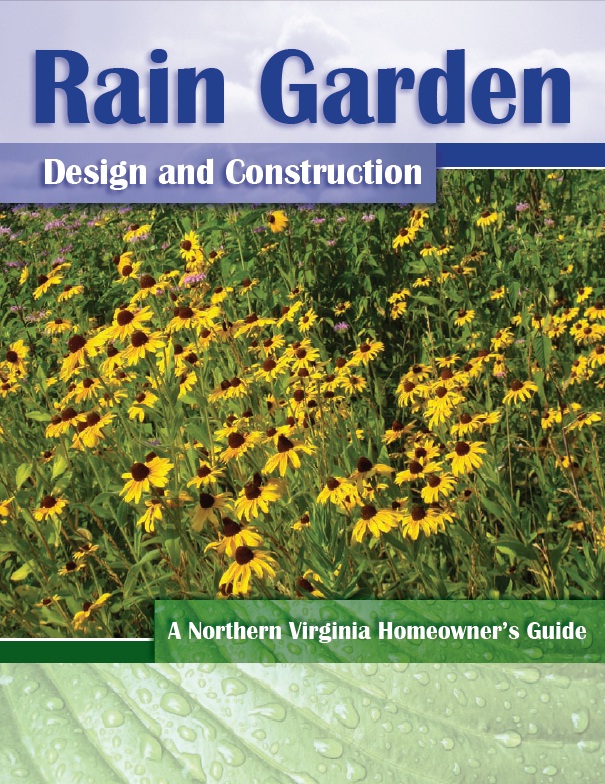 Another Fairfax County homeowner, Kashka Kubzdela, used the Conservation District's publication Rain Garden Design and Construction to locate and design her own rain garden. She explained why she decided to include a rain garden as part of a home renovation project.
"I became interested in having a rain garden [because] it's a new approach offered to better manage stormwater on my own property, to leverage stormwater to our benefit as well as to help minimize pollution to the Chesapeake Bay. We originally learned about the connection to the Chesapeake Bay after we moved to the area; our daughter came home and told us about what she was learning in school. She was concerned for the bay and motivated us to research and learn what we could do. We came to [the Conservation District's] website and discovered the information about rain gardens and rain barrels there. Rain gardens are a win-win situation: our property benefits and the watershed benefits."
"As for the rain garden guide, we have found it to be nicely done – very clear. It's not too long or wordy, but gives you the technical information and calculations you need to put a rain garden in the ground. We love the guide. It's a great resource."