NVSWCD facilitates a bi-monthly gathering to discuss environmental topics in a casual setting on a Saturday morning. Attendees include agency representatives, interested citizens and community members, students, lawmakers, members of the business community and representatives of local non-profits. Six green breakfasts are held each year.
To receive updates about Green Breakfast speakers, please register for the Green Breakfast newsletter. Please direct questions to NVSWCD.
Green Breakfast
NVSWCD's popular Green Breakfast meetings have moved to a virtual format! Please join us at 9:00am on WebEx to see the webinars planned for 2021. Contact NVSWCD to receive the link to join each webinar.
January 9, 2021 - Dr. Jim McGlone
March 13, 2021 - Speaker TBA
May 8, 2021 - Speaker TBA
July 10, 2021 - Speaker TBA
September 11, 2021 - Speaker TBA
November 13, 2021 - Speaker TBA
Past Green Breakfasts
Valuing Our Urban Forests - Dr. Jim McGlone, Urban Conservationist
Dr. Jim McGlone, Urban Forest Conservationist with the Virginia Department of Forestry shared an overview of new climate and pest stressors to our urban forests and the updated Fairfax County Tree Action Plan.
You can view the full video here. January 2021.
Northern Virginia Purple Martin Initiative - Michael Bishop, Founder
Purple Martins are a native swallow with high tolerance for humans, chattering songs, aerial acrobatics, and insect-eating habits that make them one of the most beloved songbirds in the region. Their nesting colonies have a unique dependency on the supply of human-made housing. You can view the full video here. November 2020.
Young Conservation Leaders - Carolyn Rohr, Nimesh Rudra, Cynthia Ma, and Becca Jeffries
Over the past year, several Fairfax County high school students have worked with NVSWCD as part of Youth Conservation Leadership Initiative (YCLI) and/or in Summer Independent Research Projects. Presented projects include The Danger of Microplastics (Carolyn Rohr),Water Quality in Accotink Creek (Nimesh Rudra), The Efficacy of Different Erosion Prevention Methods (Cynthia Ma), Effect of Microhabitats on Insect Biodiversity in Northern Virginia (Nimesh Rudra), and Water Quality and Buffered Stream Banks: What's the Connection? (Becca Jeffries). You can view the full video here. October 2020.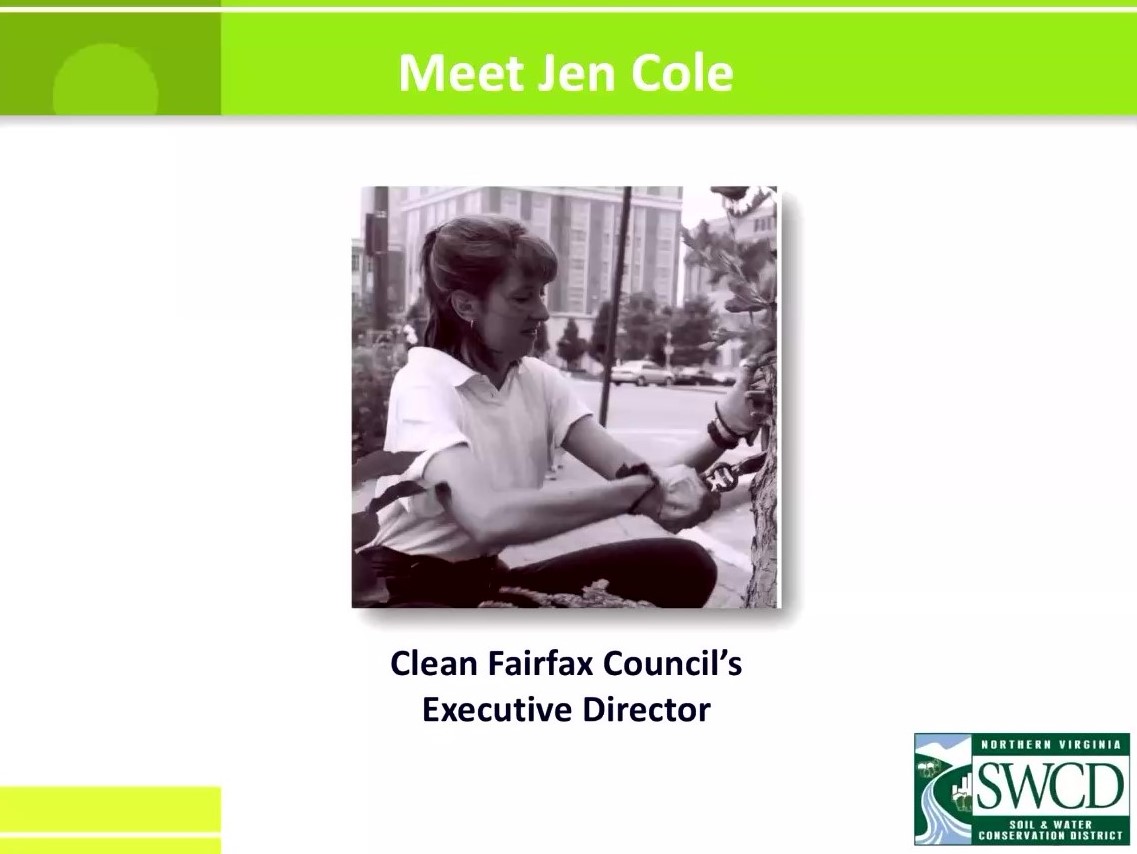 Greener at Home - Jen Cole, Clean Fairfax Council Executive Director
Learn why it is important to reduce waste production and consumption, as well as steps we can all take in our day-to-day lives to make our world a little more sustainable. Regrettably, the video for this webinar did not record correctly, but we are happy to share with you Jen's powerpoint presentation and resources discussed during the webinar. You can learn more about these sustainable efforts by visiting Clean Fairfax or Litter Free Virginia. July 2020.
Fairfax County's MS4 Program - Heather Ambrose, MS4 Program Coordinator with Fairfax County Department of Public Works and Environmental Services Stormwater Planning Division
MS4 stands for Municipal Separate Storm Sewer System. Learn what this means and how this program connects many departments throughout the county to work together to limit the county's contributions to water pollution, while also monitoring the health of our waterways. You can view the full video here. May 2020.
Past Green Breakfast topics and speakers include:
Getting Winter Ready- An Update on the Northern Virginia Salt Management Strategy. Sarah Sivers, Water Quality Planning Team Lead, Virginia Department of Environmental Quality Northern Regional Office. January 2020.
Helping Our Land Heal - FCPA Natural Resources. Kristin Sinclair, Ecologist, Fairfax County Park Authority Natural Resources Management. November 2019.
Tour of Fairfax County Government Center Stormwater Management Features. Randy Bartlett, Director, Fairfax County Department of Public Works and Environmental Services. September 2019.
A Look Back on 20 Years - Asad's Farewell. Asad Rouhi, NVSWCD. July 2019.
The Evolution of the Wildlife Refuge System. Brad Knudsen, Manager, Patuxent Wildlife Refuge, US Fish and Wildlife Service. May 2019.
How to Do Good Without Being Bad. Brandy Meuller, Fairfax County Land Development Services and Energy Action Fairfax. Jessica Lavender, Fairfax County Department of Consumer Services. March 2019.
New Year's Resolutions. Laura Grape, Executive Director, NVSWCD. January 2019.
Potomac Riverkeeper Network. Nancy Stoner, Executive Director, Potomac Riverkeeper Network. November 2018.
FCPS Sustainability Initiatives. Jeff Platenberg, Fairfax County Public Schools. September 2018.
Revitalize, Replant, Restore (R3) Program. Danielle Wynne and Chris Mueller, Fairfax County Department of Public Works and Environmental Services Stormwater Planning Division. July 2018.
Harnessing the Power of Stormwater: Micro-turbines in GMU Storm Drains. Dr. Jennifer Sklarew, George Mason University; Elijah Watkins, Math major at GMU; and Mokshyada Poudel, Global Affairs major at GMU. March 2018.
Salt Management Strategies in the Northern Virginia Region. Will Isenberg, Environmental Specialist with Virginia Department of Environmental Quality's Office of Watershed Programs and Office of Ecology. January 2018.
Citizen Participation in Land Use Processes. Jim Hart, Fairfax County Planning Commission. November 2017.
Fairfax County's Environmental Vision Update. Kambiz Agazi, Fairfax County Environmental Coordinator. September 2017.
A 300 Acre Outdoor Environmental Laboratory. Eric Forbes, I-95 Landfill Complex Manager, Fairfax County Department of Public Works and Environmental Services – Division of Solid Waste. July 2017.
Plant NOVA Natives. Alan Ford of Virginia Native Plant Society and Corey Miles of Northern Virginia Regional Commission. May 2017.
Virginia's Renewable Energy Future. Susan Stillman and Kelsey Crane, Sierra Club Virginia. March 2017.
Greening the Smithsonian. Eric Hollinger, National Museum of Natural History. November 2016.
Medicines from the Soil. Dan Schwartz, NVSWCD Soil Scientist. September 2016.
Fairfax Master Naturalists. July 2016.
Pollinator Meadow Planting and Celebration. Fairfax County Government Center. May 2016.
Managing Climate Change Risks in the Washington DC Metropolitan Area: Adaptation Through NASA's Telescope. Congressman Gerry Connolly and Erik Tucker of Leidos. March 2016.
Mushrooms, Fungi and Environmental Remediation. Meredith Keppel. January 2016.
Potomac Environmental Research and Education Center (PEREC). Chris Jones, George Mason University. November 2015.
What Weeds Can Tell You About Lawn Health. Adria Bordas, Virginia Cooperative Extension. September 2015.
A Celebration of NVSWCD's First 70 Years. July 2015.
Using Radical Daikon Radishes to Improve Urban Soil. George Mason High School Students. May 2015.
Skolithos in Fairfax County. Jerry Peters, NVSWCD Board Member. March 2015.
Conservation Assistance Program. Lily Whitesell, Watershed Specialist, NVSWCD. January 2015.
Keith Cline, Director of Urban Forestry for Fairfax County. November 2014.
Vision for Our Parks. Kirk Kincannon, Director, Fairfax County Park Authority. September 2014.
Lake Barcroft Watershed Improvement District. July 2014.
Huntley Meadows Restoration Project Grand Opening. May 2014.
Organic Gardening and Foodscaping. Unity Prior Gardens. March 2014.
Public Health and Climate Change. Dr. Laura Anderko, Georgetown University. January 2014.
Deer and Forest Ecology. Jim McGlone, Virginia Department of Forestry. November 2013.
Retrofitting the Lakes and Dams of the Pohick Watershed. Matt Meyers and Dipmani Kumar, Watershed Improvement Branch, Fairfax County Department of Public Works and Environmental Services. September 2013.
Youth Environmental Leaders. Talia Schmitt, Owen Mulvey-McFerron, Liam Berigan and Matt Baker, FCPS High School students. July 2013.
Huntley Meadows Park Wetland Restoration. Kevin Munroe, Park Manager, Huntley Meadows. May 2013.
Green Buildings, Passive Homes and Residential Energy Efficiency. Peter Henry, Architect. March 2013.
Saving Nearby Nature. Pat Coady, Northern Virginia Conservation Trust. January 2013.
Conservation Practices for All Landscapes : From Your Downspout to the Chesapeake Bay. Lily Whitesell, Watershed Specialist, NVSWCD. November 2012.
Government Center Stormwater Project Tour. Fairfax County Stormwater Planning Division. Special Event, October 2012.
A Potential New Green Energy Corridor. Conrad Mehan, EnviroSolutions. September 2012.
Energy Action Fairfax. Susan Hafeli, Utility Analyst, Fairfax County. July 2012.
Recognizing Our Region's Treasured Landscapes. Laura Grape, Northern Virginia Regional Commission. May 2012.
Greening Your Community, One School at a Time: FCPS Get2Green Program. Elaine Tholen, Environmental Educator, Fairfax County Public Schools. March 2012.
Everything You Ever Wanted to Know About Soils But Were Afraid to Ask. Dan Schwartz, Soil Scientist, NVSWCD. January 2012.
Urban Stormwater Management in Fairfax County. James Patteson, Director, Department of Public Works and Environmental Services. November 2011.
A Sneak Peek at Environmental Issues in the General Assembly Session. Delegate David Bulova, 37th District. September 2011.
Offshore Wind Energy in Virginia. Sierra Club. July 2011.