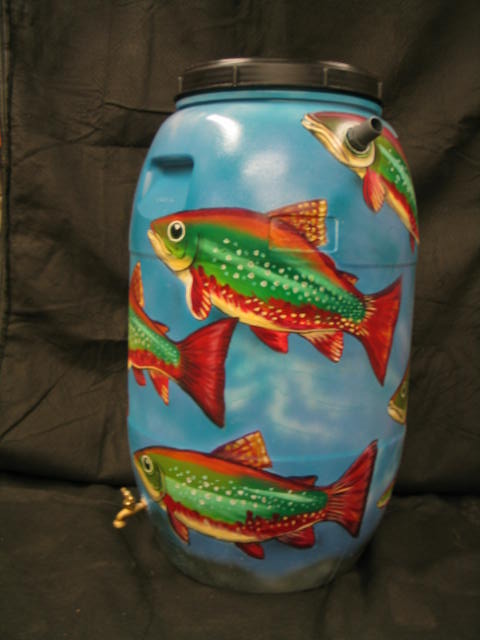 Barrels have been stored for some time and the outside will need to be cleaned before priming. Soapy water and a rinse will help remove some of the transportation and storage grime. For a deeper cleaning wetting a rag with rubbing alcohol and wiping the barrel down should do the trick!
You must apply a plastic primer before applying acrylic paint.

This is generally a spray paint. Two such brands are Krylon Fusion and Rust-Oleum* plastic spray paints. Primer or regular will work. Two cans are needed to coat a barrel.

Before applying acrylic paint gently buff the primer paint with sandpaper to remove any gloss.
After the acrylic paint is applied, please provide at least 48 hours of drying time before applying top coat to seal the acrylic paint. For example, if you finish painting your barrel on March 1st, do not apply the top coat until March 3rd.

Two sealants that rain barrel artists have used are Krylon Fusion UV protectant spray or Rust-Oleum clear crystal.*
* The mention of a product does not constitute an endorsement by the Northern Virginia Soil and Water Conservation District.