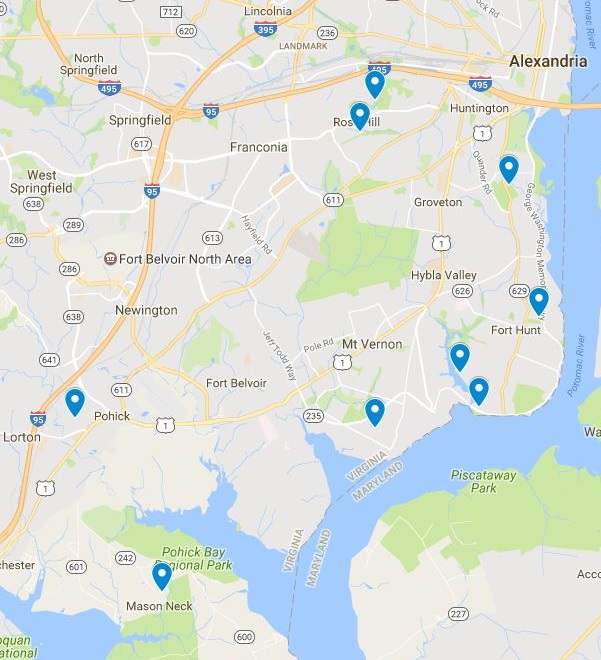 The 2017 Sustainable Garden Tour will be held Sunday, June 11 from 1-5 PM, featuring rain gardens, green roofs, native plant landscaping, rain barrels, backyard wildlife habitat, composting and more. Local residents open their gardens and share their experiences landscaping with natural resources in mind. This year's tour will feature homes and schools in the Alexandria area. Hidden treasures and verdant landscapes await you!
Please enjoy each garden at your own pace. Visit as many or as few as you like. No RSVP is required. Free and open to all!
Download Sustainable Garden Tour Descriptions and Directions PDF.
Go to Google Map of Garden Tour Sites.
View Resources for Sustainable Gardeners.
The Sustainable Garden Tour is coordinated by the Northern Virginia Soil and Water Conservation District. Special thanks to Garden Tour partners: Fairfax Master Naturalists and Fairfax County Public Schools Get2Green. Thank you!
For more information or to nominate a site, please email us or call 703-324-1423, TTY 711.
2017 Garden Tour Sites
Residence at 7700 Midway Pl, Lorton, VA 22079
Check out this impressive wildlife and native plant oasis! This National Wildlife Foundation Backyard Habitat is highlighted by a long babbling brook water feature that attracts frogs, turtles, skinks, opossums, and foxes. Many birds visit the site, as well, including bluebirds, chickadees, titmice, goldfinches, juncos, cardinals, blue jays, hawks, owls, woodpeckers, and more. Since the homeowners moved into this site in 2008, they have devoted each year to improving and maintaining their garden beds, and continue to add native plants, all with minimal support from landscaping professionals. Their devotion to sustainable gardening is clearly motivated by their belief that "humans take away so much from wildlife with development, it's nice to give something back." This Monarch Waystation site includes plant species like native azalea, viburnum, pin oak, black gum, dogwood, river birch, chokeberry, blueberry, smoketree, irises, milkweed, boneset, sparkleberry, Itea, inkberry, serviceberry, and more. In addition, the homeowners compost on their property and have begun taking steps for installing a greenhouse. They are also considering installation of an aquaponics system.
Ward Residence, 1029 Gladstone Pl, Alexandria, VA 22308
In this garden site, grass has been removed from the front yard and replaced with native plant species and other plants that attract rabbits, bees, and birds. Other wildlife (including a blue heron, pair of mating mallards, and foxes) flock to the large man-made pond in the rear yard. This pond also serves as habitat for goldfish and frogs, and is minimally cleaned by hand so that it can provide an algae food source for local wildlife. Although the rest of the rear yard has grass, the property also features a wooded area and vegetable garden. Composting and pesticide/fertilizer-free practices are also followed by the garden owner.
Young Residence, 9215 Allwood Dr, Alexandria, VA 22309
Come sneak a peek at this Audubon at Home Ambassador's Garden! Lovely mature trees, a foot rail fence, and absent sidewalks give this landscape a country lane feel. A large screened porch anchors the garden and looks out on the plantings. See how the homeowners have managed tricky water conditions over the 30 years they have lived here - which seems to be either "sopping wet or dry as a bone." Native Virginia Sweetspire grows along the property border to soak up run-off, and brush piles provide habitat for local wildlife. Leaves are collected on site to be used as mulch, which is applied to the garden along with compost. While grass is mowed, no herbicides, pesticides or fertilizers are used. Lawn area and invasive euonymus, vinca, wisteria, multiflora rose, and English ivy have been steadily removed to make more room for native plants and garden beds.
Thornburg Residence, 10815 Harley Rd, Lorton, VA 22079
The Thornburg garden is on historic Mason Neck adjacent to Mason Neck State Park and a Federal Wildlife Refuge for the American Bald Eagle. The 7.5 acre natural woodland garden setting combines historical and native plantings within an old growth American Holly/Oak forest. An Audubon-certified wildlife sanctuary, all pest management practices are biologically sound with predatory insects, birds, tree frogs, toads, skinks, and chickens on patrol. Park along long driveway or in front grassy parking area.
Residence at 9012 Captains Row, Alexandria, VA 22308
With most of the environmental features on this 3/4 acre property built for free or at very little cost, the homeowners' belief that "being an environmentalist should not be expensive" is evident at this conservation wonderland tour stop. The homeowners have removed their grass and begun a native plant collection nearly free of any cost. They have a gravel driveway and walkways made of recycled material. Several structures are made of cob, a mixture of straw and mud gathered from their back yard, including a wood shed, a bee habitat, a handicap accessible cold frame, and several cob walls as part of the main house. Mud was extracted from the yard to form wetland areas, two small ponds, and several water harvesting features at no cost.
Loft Ridge Rain Garden, 4320 Gypsy Ct, Alexandria, VA 22310
The Loft Ridge Rain Garden was one of the first Conservation Assistance Program projects. Installed in 2015, it captures rain from a row of townhouse roofs, protecting the nearby stream in the Cameron Run watershed. Learn more about the Loft Ridge rain garden. Please park near the tennis courts on Ridge View Drive, either head-in parking in the circle or along the road. Please do not park in numbered parking spaces. The rain garden is a short walk down the paved path past the tennis courts.
Martin-Siegel Residence, 8707 Stockton Pkwy, Alexandria, VA 22308
This conservation landscape garden has it all! Ask the homeowners about their Audubon at Home Certified Wildlife Sanctuary and how you can have an AAH Ambassador visit your property to make recommendations for your garden. The home looks out on gorgeous Little Hunting Creek, with a conservation easement to protect the riparian area. This is a true demonstration site for watershed-friendly landscaping: A porous paver driveway traps runoff before it reaches the street, and a rain garden and rain barrels capture additional roof runoff. Pollinator friendly native plants soak up water and provide habitat for creatures large and small. Don't miss this incredible property!
McGlone-Crumbling Residence, 4534 Eaton Pl, Alexandria, VA 22310
Bees, butterflies and other pollinators are all welcome here, but no lawn is allowed! Multilayered sun and shade plantings, healthy soils, forested riparian buffer, and a tree that overhangs part of the house to intercept stormwater all contribute to restoring healthy green spaces in Fairfax County. Native plants are grouped by habitat type in this Audubon at Home certified Wildlife Sanctuary. 
Belle View Elementary School, 6701 Fort Hunt Rd, Alexandria, VA 22307
There are a number of outdoor learning classrooms on the Belle View Elementary campus, including an outdoor wetland laboratory that consists of roughly 800 plants. The other outdoor classrooms include a rain garden, raised vegetable beds, a sensory garden, and more. Stop by this site to see the new "classroom" exploding with natural exuberance.
This is a self-guided site - there will not be a host or volunteer on hand during the tour. However, feel free to walk around the school grounds to visit all of the gardens.