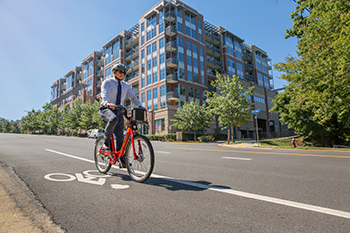 Bike to Work Day helps recognize those employees who already ride two wheels to work - and invites first-time bicycle commuters to give it a try.
This toolkit is designed to help get your workplace rolling for this fun nationwide event, and to support you in creating a lasting corporate bicycle (commuting) culture. For more information, expand the sections below to see how you can transform your organization into a bicycle-friendly office, on Bike to Work Day and every day!
Hang the Bike to Work Day poster (English version or Spanish version) in a common area: doors, elevators, bulletin boards, kitchens, restrooms, etc. In addition, place the Bike to Work Day poster on an easel in your reception area at least a week before the event.
Add Bike to Work Day (May 19) to your internal calendars.
Email your employees to invite them to bike to work on Bike to Work Day, and inform them about the events you are planning. Remind them to register at http://www.biketoworkmetrodc.org/.
Encourage employees to wear their Bike to Work Day T-shirts (from this year, or previous years) or dress down.
Allow riders who are concerned about their "Helmet Hair" to wear hats.
Allow flexible work schedules, in case it takes folks longer than expected to get into the office, to help avoid rush-hour traffic, to beat darkness, etc.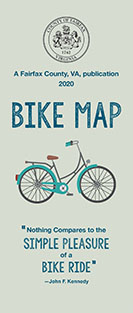 Have staff that already commutes by bike? Ask them to be a bike mentor to new riders, or invite them to give a presentation at a staff meeting.
Host a Bike Commuting Seminar. For employees who wish to explore the possibility of commuting to work, this one hour class offered by the Washington Area Bicyclist Association can be tailored to fit a brown bag lunch taught at your business and covers route selection, bicycle choice, dealing with cargo and clothing, bicycle parking, lighting, reflection, and foul weather riding. Commuter Seminars throughout the Washington area are offered upon request. A fee may apply.
Help with route planning by sharing the Fairfax County Interactive Bicycle Map, which features roads, bike lanes, trails and paths ranked by comfort level. For a print version of the map, please contact the Bike Fairfax team.
Taking Transit and Biking to Work absolutely counts! Please see WMATA, VRE and Fairfax Connector for more information, rules and restrictions.
Download the Bike Fairfax Brochure: A Driver's Guide to Bike Lanes in Fairfax County
Visit the Northern Virginia Regional Commission's Share the Road page for bike commuting and safety tips. Encourage all employees to watch out for cyclists on the road.
On or before Bike to Work Day, invite a local bike shop to do free or low-cost bike tune-ups.
Bicyclists need a place to store their bike, showers and locker facilities.  If your building doesn't offer these amenities, here are some ideas for Bike to Work Day and for future planning.
On Bike to Work Day:
Let employees bring their bikes into their offices.
Find an empty office of storage room to serve as bike storage for the day.
Set up a corral inside your building so riders can leave their bikes.
See if a nearby health club will let your employees use their locker rooms for the day.
Provide goodie bags to participants, including personal hygiene items like wet hand wipes.
For Future Planning:
Good bike parking should be in a well-lit and easily-accessible area. Ideally, bike storage should be secure and sheltered from the elements.
When purchasing and installing bike racks, please follow the Fairfax County Bicycle Parking Guidelines.
For buildings with 50-100 employees, one shower should be sufficient; in buildings with 101-250 employees, one shower for each sex should be sufficient.
There should be one securable gym locker to store work clothes for every bicycle commuter.
If you don't know how many potential bike commuters you have in your workforce, send an employee survey and ask!
Commuter Connections Employer Challenge
The top five Metro DC organizations with the greatest Bike to Work Day employee participation will be entered into a raffle for a luncheon courtesy of Commuter Connections
The National Bike Challenge
Register your business at www.nationalbikechallenge.org.
Create a team for all employees, among different departments or within departments; challenge a neighboring company or competitor to join Bike to Work Day and the National Bike Challenge; create an award for the department with the best turnout.
Post the current statistics wherever possible: on the employee intranet, in daily/weekly emails, in employee newsletters, and/or in a central office location. Update the statistics at the end of the day to show how many employees from your office have signed up so far, and showing the participation levels at the organizations you are competing against in the Business Challenge. If possible, recognize new signups by name on a daily or weekly basis.
Host a breakfast or lunch at your office for employees who bike to work.

Give certificates to your bike commuters
Consider adding awards for longest ride, best photo on the ride into work, best bike commuting story, etc.
Hold a drawing for a special prize (e.g., an extra day off) among all the participants

Offer wellness incentive points for participation in Bike to Work Day.
Take photos of employees who Bike to Work, and promote their participation in company or employee newsletters, as well as social media. Use #BTWD2023 and #bikefairfax.
Appoint a Bicycle Coordinator. A fitness/wellness coordinator, transportation coordinator, or an enthusiastic employee who currently bikes to work are the most practical people to organize a bicycle commuter program at your workplace. The coordinator can evaluate facilities and identify safe routes to your work place. This employee can devote a few minutes per week to help put together a bike-to-work program.
Issue punch cards to employees with a challenge to get as many punches as possible each month. For instance, bike six times to work in June and win a prize. Consider offering double punch days, or allowing first-time bike commuters to start with a free punch.
Provide a company-owned pool of bicycles or access to Capital Bikeshare's fleet of bicycles for short business trips, errands and recreation.
Recognize bicyclists at company-wide functions.
Promote the regional Guaranteed Ride Home Program (GRH), which provides commuters who regularly (twice a week) carpool, vanpool, bike, walk or take transit to work with a FREE and reliable ride home when one of life's unexpected emergencies arise. Commuters may take advantage of GRH up to four times per year to get home for unexpected emergencies such as a personal illness or a sick child. GRH can also be used for unscheduled overtime when the employer mandates that an employee must stay late. Knowing there's a guaranteed ride home allows your employees to use commuting options like transit and carpools with peace of mind and confidence.