Project News and Updates

Virtual Public Meeting Held July 18; 
Comments Due Aug. 1, 2022 
FCDOT held a virtual public information meeting to present the Revised Environmental Assessment on the Soapstone Connector Project on Monday, July 18, at 6:30 p.m. 
Comments will be accepted at the meeting and through August 1, 2022. Please use the Feedback Form button below to submit comments to the project team.
Revised Environmental Assessment
The Revised Environmental Assessment (EA) for the Soapstone Connector was approved by the Federal Highway Administration (FHWA) for public availability on May 4, 2022. The Revised EA documents changes to the project or its impacts since completion of the EA in August 2017. Of note, new attachments include:
A Draft Individual Section 4(f) Evaluation that was completed in accordance with Section 4(f) of the US Department of Transportation Act of 1966 as a result of the designation of a new historic district in the project area (Association Drive Historic District); and
A Draft Memorandum of Agreement (MOA) that has been prepared in accordance with Section 106 of the National Historic Preservation Act to resolve the project's averse effects on the Association Drive Historic District.
FCDOT ensures nondiscrimination in all programs and activities in accordance with Title VI of the Civil Rights Act of 1964 and the Americans with Disabilities Act (ADA). If you need this information in an alternate format or would like to request reasonable accommodations for persons with disabilities or limited English proficiency, contact FCDOT at 703-877-5600, TTY 711. Requests for assistance must be received at least 7 business days in advance of an event.
Background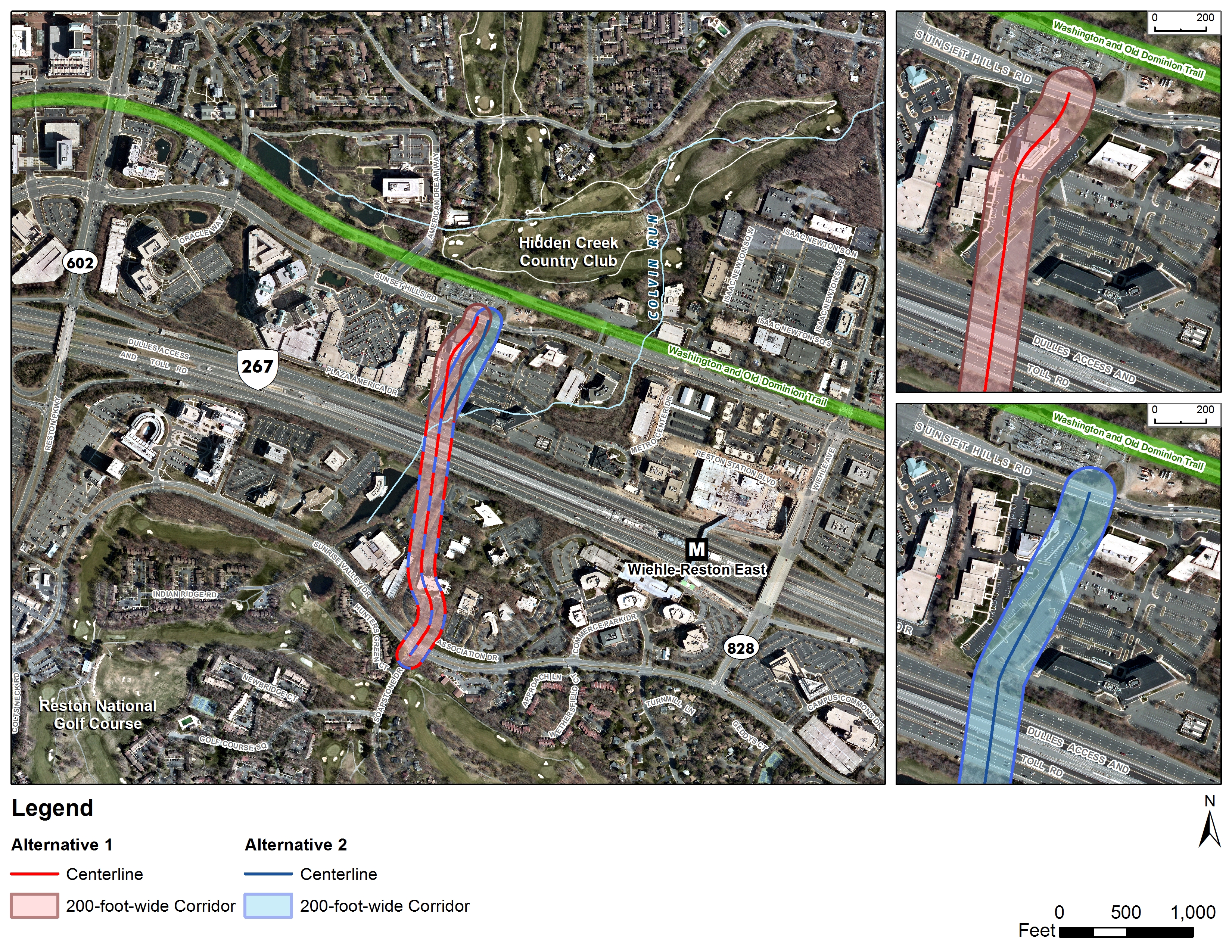 The Soapstone Connector Project (No. 2G40-078) aims to provide a direct connection between Sunset Hills Road and Sunrise Valley Drive crossing over the Dulles Toll Road (Route 267), as recommended by the Reston Metrorail Access Group (RMAG). The project is also included in the Fairfax County Comprehensive Plan (2017 Edition, Area III, Reston Plan, Wiehle-Reston East Transit Station Area, Amended through 7-31-2018) to achieve the vision for Reston and enhance connectivity through the Wiehle-Reston East Transit Station Area by creating multiple and enhanced connections.
The proposed Soapstone Connector alignment is a combination of two previously evaluated alternatives and was chosen due to its advantages over the numerous alternatives studied. These advantages include benefits to multi-modal users, connectivity to Soapstone Drive, and minimization of impacts to environmentally-sensitive areas.