News and Information
Virtual Meeting Held March 19 and 24; Comments Closed April 16, 2021
The Route 7 Bus Rapid Transit (BRT) Study intends to provide details on how a BRT system would function in Tysons from Spring Hill Metrorail Station to the I-66 interchange. After developing and testing potential BRT routes in Tysons, the Fairfax County Department of Transportation held a second round of public meeting on the Route 7 Bus Rapid Transit (BRT) Study on March 19 and 24, 2021, to present alternatives for potential alignment along with station locations and to seek public feedback and comments.
For those unable to attend the events, meeting materials are available: 
The study team can be reached:
Electronically through the red feedback button at the bottom of this page
In writing to FCDOT, Attn: Route 7 BRT, 4050 Legato Road, Suite 400, Fairfax, VA 22033
Calling 703-877-5600, TTY 711
Background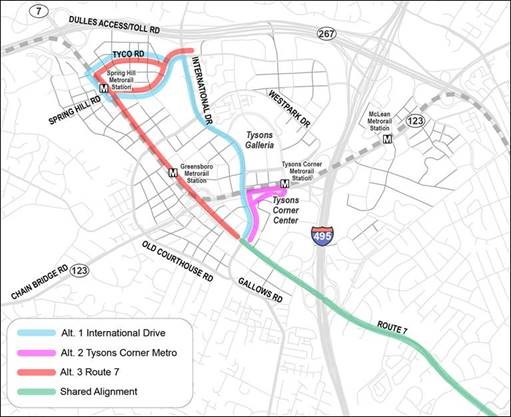 The Route 7 BRT Study, led by FCDOT and in collaboration with Virginia Department of Transportation (VDOT), will provide recommendations for Bus Rapid Transit (BRT) system in Tysons from the Spring Hill Metrorail Station to the I-66 interchange regarding alignment, runningway, roadway cross section and station locations.
The study is based on the Envision Route 7 Corridor Transit Study, undertaken by Northern Virginia Transportation Commission (NVTC), which identified BRT as the preferred transit alternative for Route 7, from the Mark Center to Tysons. To complement NVTC's study and to effectively plan for the future, FCDOT is conducting a more detailed study of the BRT within Tysons. The study intends to provide the below information:
BRT alignment, terminal station, and how the buses will turn around.
Type of transit runningway that BRT would operate in (i.e. curb running, median running, bus and turn only (BAT) lane, mixed traffic).
Roadway cross sections.
BRT station locations.
The study will consider how the BRT will affect pedestrian and bicycle activity, vehicular traffic, and other transit in the area and how it will integrate with other ongoing planning efforts under consideration. The resulting recommendation will guide the implementation of the Route 7 BRT within Tysons.
Timeline and Next Steps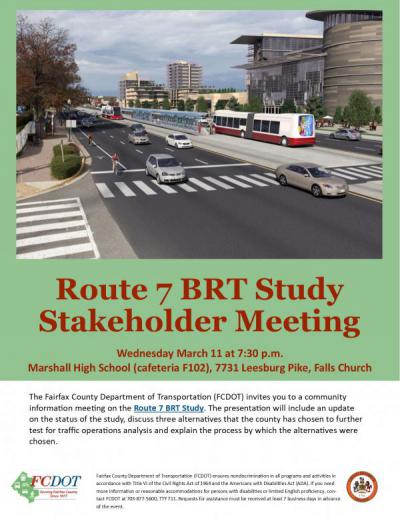 The study commenced in October 2018 and is expected to be completed by Spring/Summer 2021.
FCDOT staff held a stakeholder meeting on the Route 7 BRT study on March 11, 2020, at in the Marshall High School cafeteria (F102), 7731 Leesburg Pike, Falls Church. 
Fairfax County will continue to reach out to stakeholders along the proposed route(s) regarding the proposed alternatives and to gather feedback and comments. 
Stay in touch with the Route 7 BRT Study and FCDOT:
Visit this webpage for project updates and meeting notices
Receive notifications to your phone or email by subscribing to Fairfax Alerts
Follow FCDOT on Facebook
FCDOT ensures nondiscrimination in all programs and activities in accordance with Title VI of the Civil Rights Act of 1964 and the Americans with Disabilities Act (ADA). If you need this information in an alternate format or would like to request reasonable accommodations for persons with disabilities or limited English proficiency, contact FCDOT at 703-877-5600, TTY 711. Requests for assistance must be received at least 7 business days in advance of an event.