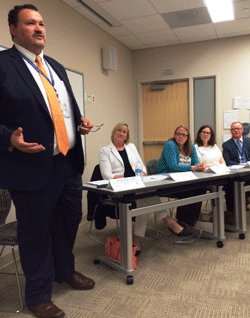 Parents, professionals, and concerned community members met Thursday evening at the Merrifield Center in Fairfax to share insights on how to help teens build resilience and coping strategies. The community forum on teen resilience was hosted by the Fairfax-Falls Church Community Services Board (CSB) with participation from Fairfax County Public Schools, Inova Kellar Center, and PRS, Inc.
The forum began with a personal presentation from Bob,* an older teen, now in recovery, who had experienced serious depression in high school. He described how the escalating pressures from varsity sports, AP courses, and the trauma of losing a close friend to suicide led to an inability to communicate as well as he once had.
"I didn't know how to show or comprehend the pain I felt; athletes don't show pain," he explained. "I put up walls and isolated myself; I didn't know how to work through it and didn't know where to turn."
Eventually, his parents received a call from a worried acquaintance, and the urgent call prompted immediate action.
"That call may have saved my life," he shared. He reluctantly agreed to see a therapist which, he now realizes, "turned out to be a good move."
"Once I was diagnosed with depression, my situation had a name, and I had to come up with a plan of action," he recalled. "It's not quick, one-time fix, but my parents and friends were there for me and didn't turn their backs on me. I should've sought help sooner."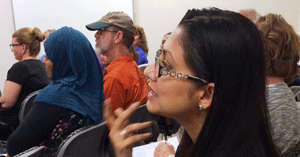 He had the following suggestions for parents: "Be there for your child; listen to them and do things with your child; spend time with them. If they're going through something tough, embrace the discomfort and work through it together. It is the only way to heal."
Daryl Washington, CSB's Deputy Director of Clinical Operations moderated a panel discussion on teen resilience and coping strategies. Topics included: understanding anxiety and depression, recognizing healthy boundaries, working on conflict, connecting better connect with children, and understanding what is and isn't normal teen behavior.
Panelists included: Rick Leichtweis, Ph.D., Senior Director, Inova Kellar Center, Marla Zometsky, LPC, Manager of CSB-PRS Turning Point Program, Laura Mayer, PRS CrisisLink Program Director, and Mary Jo Davis, LCSW, Coordinator of Social Work Services for Fairfax County Public Schools.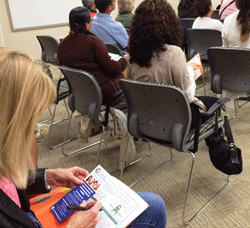 Panelists shared the following suggestions and observations:
If you or someone you know is experiencing a mental health or substance use crisis, help is just a phone call away, 24 hours a day. Call CSB Emergency Services – 703-573-5679 (TTY 711) or come directly to the Merrifield Center. If the situation is immediately life-threatening, call 911. Ask for a crisis intervention team officer.
*"Bob" is a pseudonym to respect the teen's confidentiality.