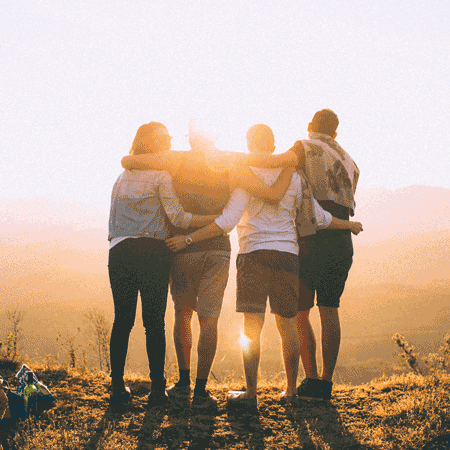 In partnership with the Fairfax Falls Church Community Services Board (CSB), the Fairfax County Public Schools (FCPS), and the Fairfax County Juvenile and Domestic Relations District Court (JDRDC), new efforts are underway to help get more teens get behavioral health support more quickly.
Thanks to funds allocated by the Fairfax County Board of Supervisors in 2017, the CSB hired two additional behavioral health clinicians, solely dedicated to youth clients directly referred by FCPS staff or who have been diverted from the Juvenile Court. Additionally, FCPS is hiring six new substance abuse prevention specialists, enabling more substance use screenings and referrals for help and resources and more outreach and engagement on alcohol, youth and other substances. It is estimated that the new collaborative program will reach over 40,000 students this year and will enable help for roughly 250 teens with early intervention and referrals.
The JDRDC has been actively working to improve and expand their process of identifying youth who can be safely diverted from deeper contact with the court system. Recent efforts have increased screening to determine which teens may benefit from treatment services and other diversion options. "Research and data has shown that introducing low-risk juvenile offenders into the juvenile justice system produces poorer outcomes, particularly for those youth with substance abuse and mental health issues, whose needs can be more appropriately addressed by diverting them to treatment as opposed to formal processing by the court," said Matt Thompson, Deputy Director for Probation Services with the JDRDC.
According to Healthy Minds Fairfax Director Jim Gillespie, "Time to treatment matters. Studies show that early use of drugs and alcohol can be devastating and can result in long-term addiction disorder. The quicker we can provide education, treatment and resources, the better off the child or teen – and our community – will be, and the higher the likelihood of successful recovery." Healthy Minds is a Fairfax County initiative that aims to improve access to behavioral health services for children, youth and families, and improve the quality of those services, through coordinating a continuum of behavioral health services across multiple county agencies, the school system and a network of private providers. 
Key substance use findings from the Fairfax County Youth Survey (see pages 17-76) indicate that youth are reporting the lowest rates of use of cigarettes, alcohol and marijuana in the last five years and that Fairfax is below the national average in use of these substances. However, despite declining trends in use of these substances, Fairfax youth self-report higher than national rates in use of LSD, cocaine, methamphetamines and heroin, and 5% of FCPS students reported taking painkillers without a doctor's orders in the past month. "Through the new partnership, our goal is to reduce the number of young people misusing prescription medication, which oftentimes is where addiction to opioids begins," said Stefan Mascoll, Coordinator, Student Safety and Wellness Office, Fairfax County Public Schools. Recent data in the Fairfax County Opioid Task Force Plan reveals that the rate of overdose visits to Emergency Departments were highest among those age 15-24. When broken down further, school age children made up 22% of overdoses (between 2015-2017), including opioids.
There are many ways to be involved in substance use and underage alcohol prevention programs in Fairfax County: