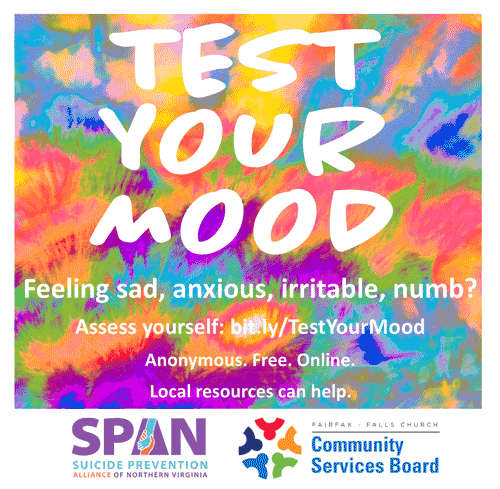 Adolescence is a difficult time for teens and their parents. This time of year, with exams, tests, social events, and the upcoming end of the school year, emotions and stress can be exacerbated. It can be difficult to know when adolescents are experiencing regular teen moodiness and when they might be struggling with their mental health.
More than 22 percent of people between 13 and 18 will experience a mental health or substance use problem in a given year, and most don't receive treatment. It's important for teens to feel comfortable talking to trusted adults in their life and seeking help before they reach a crisis.
Learn how to recognize signs of mental health problems in your teen. The Fairfax-Falls Church Community Services Board (CSB) Wellness, Health Promotion & Prevention team has tools that can help. The "test your mood" free online screening and mental health first aid courses are designed by experts and can help teens and families understand what they're feeling and why. (The screenings are also available in Spanish.)
Open the conversation about mental health with your teen, so if they feel like they're struggling, they know they have a support system. Encourage open dialogue.
Here are more steps parents and caring adults can take:
Ask – Pick a time that feels comfortable, this might be when you're in the car together, doing the dishes, or right before bed, and ask your teen how they're doing. You can start by commenting on something you've noticed, in a neutral way, like, "I noticed you haven't been hanging out with your friends as often as you used to. Is everything okay?" or "How are you feeling? It seems like things have been hard lately."
*It's a good idea, if you suspect they may be experiencing depression, to ask them if they've considered hurting themselves, or if they have thoughts of suicide. Talking about it won't put the idea in their head, but it could save their life.
Listen – The most important thing you can do for your teen is to listen without judgement to what they're experiencing and how they feel. Try to really understand and empathize with what they're telling you, and don't make assumptions or jump to conclusions.
Validate – Just because they're young doesn't mean they don't have real stress and real emotional turmoil. Make sure as you talk with them, you don't brush away their feelings as "just" teen angst. It's also really important to let them know that mental health disorders are common and treatable. It will get better for them, even if they're going through a rough patch.
Talk about next steps – If they've been open to talking to you about what they're going through, discuss what ways they might be comfortable to get help.
Mental health and wellness issues are not a one-time conversation. Letting them know that you're there for them, that you care, and that you will support them in anything they're dealing with can help your child navigate the bumpy teen years.
Interested in learning about more tools to understand teen mental health issues? Enroll in one of the CSB's Mental Health First Aid courses to learn about mental health conditions and what you can do to help.
If you need help...
For information on CSB services, call CSB Entry & Referral at 703-383-8500,TTY 711, or come directly to the Merrifield Center for a screening, Monday through Friday, 9 a.m. to 5 p.m.
Emergency mental health services are available 24/7 by calling 703-573-5679, TTY 711, or come directly to the Merrifield Center's lower level. The Fairfax Detoxification Center is also available 24/7 at 703-502-7000, TTY 703-322-9080.