This list includes CSB and other community resources that are available for support and assistance.
You may need to copy and paste some links into your browser.
This information is also available in Spanish.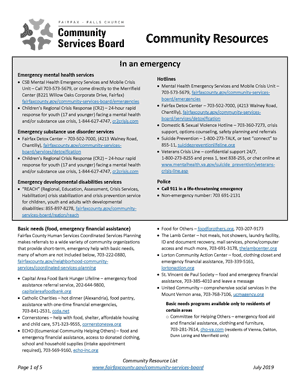 Emergencies and Places to Turn
CSB Mental Health Emergency Services and Mobile Crisis Unit – 703-573-5679
Fairfax Detox Center – 703-502-7000
Suicide Prevention – 1-800-273-TALK or text "CONNECT" to 855-11
Fairfax County Human Services Coordinated Services Planning (CSP) – short-term, emergency help with basic needs, 703-222-0880
Adult Protective Services – 703-324-7450
Aging, Disability and Caregiver Resources – 703-324-7948, TTY 703-449-1186
Alcoholics Anonymous/Narcotics Anonymous (http://www.nvintergroup.org) – phone support and meeting information, 703-293-9753 or 1-800-208-8649
Artemis House – shelter for victims of domestic violence, 703-435-4940
Capital Area Food Bank Hunger Lifeline – emergency food assistance referral service, 202-639-9770
Child Protective Services – 703-324-7400
Committee for Helping Others (http://cho-va.com/wordpress/) – help with payment of rent, mortgages, utility bills, medical expenses and other financial needs, as well as a food closet, clothes closet, and transportation assistance, 703-281-7614
Cornerstones (http://www.cornerstonesva.org/) – help with food, shelter, affordable housing, and quality childcare, 571-323-9555
Domestic & Sexual Violence Hotline – 703-360-7273
Food for Others (http://www.foodforothers.org/) – 703-207-9173
Haven (http://www.havenofnova.org/) – free grief counseling, 703-941-7000
Koinonia (http://www.koinoniacares.org/) – emergency relief services within Lee District, 703-971-1991
New Hope Housing – emergency shelter and housing, plus education, employment, debt reduction, 703-799-2293
United Community Ministries – comprehensive social services in the Mount Vernon area, 703-768-7106
Western Fairfax Christian Ministries – emergency relief services, mentoring, financial literacy for people in Western Fairfax County, 703-988-9656
Homeless Shelters
Comprehensive information on all Fairfax County shelters. 
Bailey's Crossroads Shelter – 703-820-7621
Eleanor Kennedy Shelter – 703-799-0200
Embry Rucker Shelter – 703-437-1975
Families with minor children should call Coordinated Services Planning (CSP) first (703-222-0880
), before contacting shelters. Individual adults may also start the process by first calling CSP to learn about all resources.
Peer-Run Recovery Centers
SAARA (Substance Abuse and Addiction Recovery Alliance) – substance abuse peer support, 703-216-8094 or 703-216-7392
Recovery and drop-in centers are places where people with mental illness can stop by to socialize or just hang out in a low stress, low demand environment. See locations of Peer-Run Recovery Centers in Fairfax County.
Wellness Recovery Action Plan (WRAP) Groups
Community Nonprofit Service Providers
The Brain Foundation (http://www.brain-foundation.org/) – affordable housing for people with serious brain diseases
Catholic Charities (http://www.ccda.net/) – Individual, couples and family counseling for emotional and behavioral obstacles; limited medication services; occasional groups on special topics; various locations, 703-841-2531
Center for Marriage and Family Services – low-cost, quality mental health services for couples, families and individuals, 703-538-8470
Jewish Social Services Agency (JSSA, http://www.jssa.org/) – child, adult and family services; services for Autism Spectrum Disorders; educational and neuropsychological testing and advocacy; parenting programs; couples and collaborative divorce programs, 703-204-9100
The Lamb Center (http://www.thelambcenter.org/) – assistance with food, clothing, hot showers, job counseling, transportation and housing, 703-691-3178
Northern Virginia Family Service - Multicultural Center (http://nvfs.org/) – multicultural services, counseling, and family support available on a sliding fee scale (includes Hispanic Committee of Virginia), 571-748-2500
Pathway Homes – housing and supportive services for adults with serious mental illness and co-occurring disabilities, 703-876-0390
PRS Inc. – Recovery Academy, employment and mental health supports for persons with mild intellectual disabilities, pervasive developmental disabilities and substance use disorders in addition to those living with mental illness, 703-448-3723
ServiceSource – employment and day support, 703-354-0900
SkillSource – job training and placement, 703-752-1606
The Women's Center (http://thewomenscenter.org/) – mental health counseling, support and education, 703-281-2657,
Support and Advocacy
Al-Anon/Alateen (http://alanonva.com/)
Depression Bipolar Support Alliance (http://dbsanova.org/) – Support groups for persons with mood disorders and their friends and family.
disAbility Navigator (http://www.disabilitynavigator.org/) – web resource created by and for people with disabilities and their families
Dual Recovery Anonymous (http://www.draonline.org/)
Narcotics Anonymous (http://www.na.org/)
National Alliance on Mental Illness (NAMI) of Northern Virginia (http://www.nami-northernvirginia.org) – 703-915-2641
NAMI Family-to-Family (http://www.nami-northernvirginia.org/families-and-friends.html) – parent support and education program
National DisAbility Rights Network (http://www.ndrn.org/)
Opportunities, Alternatives & Resources (OAR) of Fairfax (http://www.oarfairfax.org/) – community service opportunities for offenders, 703-246-3033
Some Useful State and Federal Government Links
Unless otherwise noted, TTY number for all listings is 711.
Fairfax County is committed to nondiscrimination on the basis of disability in all county programs, services and activities. Reasonable accommodations will be provided upon request. For information, call 703-324-7000, TTY 711. Please allow two weeks' notice to arrange ADA accommodations. To request this information in an alternate format, call 703-324-7000 , TTY 711.