Transforming lives through supported employment and supported education services
Are you someone with serious mental illness, and/or substance use disorder who is interested in finding a job or continuing your education?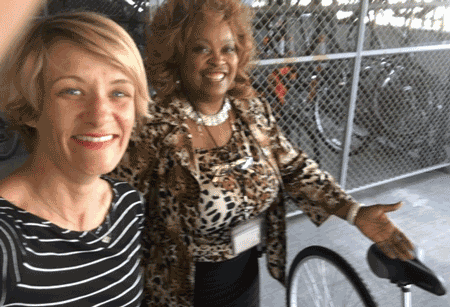 CSB's Supported Employment program helps people with disabilities or who are in recovery work towards life goals that involve:
Getting and keeping a job in the competitive labor market.
Learning about career choices and barriers to employment.
Volunteering in the community.
Completing your GED.
Continuing your education through college or industry certification.
If you choose to work with our program, you will work with an employment specialist – sometimes called a workforce specialist or job coach – to help you find and maintain employment. We work with individuals who are receiving mental health and/or substance use disorder services from the CSB, and can also work with people who are receiving services from another provider in the community.
Getting a job isn't the end of the employment process, it is really just the beginning. Your supported employment specialist generally checks in with you once a month to see how things are going and to talk about the various components of keeping your job. At times, long term support can revert to active job seeking. Or you may decide after you are at a job for a while that you would like to work on earning a certification, getting a promotion, or look for a different job. When your circumstances change, staff can provide more support to help you reach your goals. Starting a job may spark a whole new career perspective!
If you are currently receiving CSB services and want to find out more about these services, talk with your CSB case worker, who can refer you. If you are not receiving CSB services but are receiving services in the community for a serious mental illness or substance use issue (must be a resident of Fairfax County or the cities of Fairfax or Falls Church), call CSB Entry and Referral at 703-383-8500
and state that you would like a referral to CSB Integrated Referral and Transition Team (IRTT) Supported Employment Services for one-on-one job coaching.
Read all about how our Supported Employment Resources can help you.
Are you a business owner interested in hiring people with disabilities or who are in recovery?
There are many benefits of hiring people with disabilities or who are in recovery which are supported by research. Recovery-friendly workplaces support their community by recognizing the strengths that people learn in recovery from substance use or mental health challenges, are being willing to hire and work intentionally with people in recovery.
People in recovery are:
Highly motivated to work because employment provides the opportunity to get their lives back on track.
Loyal and committed to employers who are willing to give them a chance and help them achieve financial, social and personal stability.
Businesses benefit from hiring people with disabilities or who are in recovery by:
Having a larger, more diverse hiring pool.
Possibly increasing the business's return on investment through allowable tax credits or incentives for hiring people with disabilities.
Possibly having lower staff turnover rates which can result in decreased costs associated with training and onboarding new employees with each turnover.
If you hire a candidate who works with a job coach, you can be assured:
Your new employee will come to work on time and prepared to work.
The employee's job coach will come to the work place and support the new employee during the training and onboarding phase of employment, if needed.
The employee's job coach will offer free training to the employer regarding working with people with disabilities.
The employee's job coach will provide continuing support to the employee to guarantee success on the job.
The employee's job coach will assist with human resources documentation, performance improvement plans and promotional opportunities or other transitions on the job.
The employee's job coach will offer the employer other assistance as needed about the employee's performance.
Know of a business interested in hiring people with disabilities or who are in recovery? Contact CSB's manager of Contracts and Employment Services, Lori Bell (703-324-7009).