(Posted 2023 March)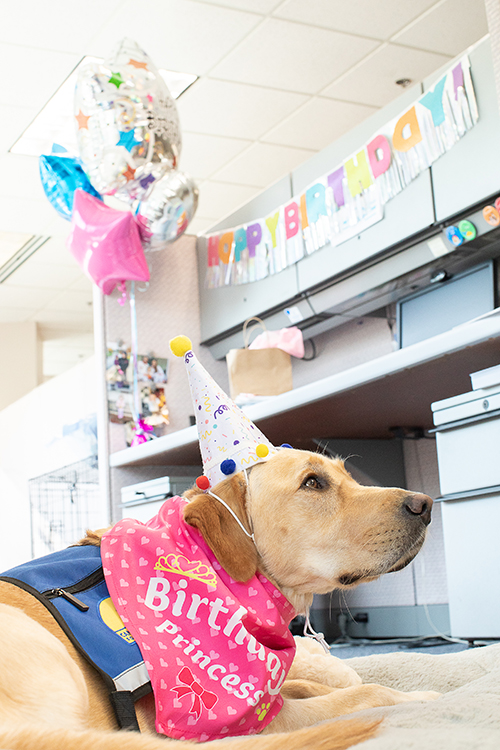 On March 10 our very own facility dog, Rylynn, is turning 4 – that's 28 in dog years! Did you know that Rylynn was part of the "R Litter" of puppies when she was born in California through the organization Canine Companions®? This non-profit is responsible for breeding, training, and placing Rylynn with our agency, free of charge.
Each litter is assigned a letter at birth to be used as the first letter in each puppy's name. R Litter's parents are Habit (Mom) and Dugan (Dad). Habit had three litters total, which due to some unfortunate circumstances is fewer than usual. As Habit was turning 5, Canine Companions decided to retire her. Dugan was a transfer from Guide Dogs for the Blind to become a breeder for Canine Companions. 
The R Litter had a total of eight puppies, that means Rylynn has seven siblings! Their names are Romilly, Roulette, Rowling, Roy, Ruger, Ryland, and Rhythm!
Roy is a facility dog just like Rylynn, and he works for the Dover Police Department in Delaware. Ruger is a skilled companion dog living with a family in Florida. Rhythm was released from the program and lives in California working as a therapy dog.
Rylynn's remaining siblings, Romilly, Roulette, Rowling, and Ryland were all released from the program. Dogs can be released from Canine Companions during training for varying reasons. Canine Companions typically places between 325 and 375 service dogs per year. They have over 2,600 active teams throughout the country and have placed over 7,100 dogs since their founding in 1975. 
We at the Department of Family Services are wishing the entire "R Litter" a very happy 4th birthday, filled with lots of love, belly rubs, and treats!
Learn more about Rylynn and her work in DFS.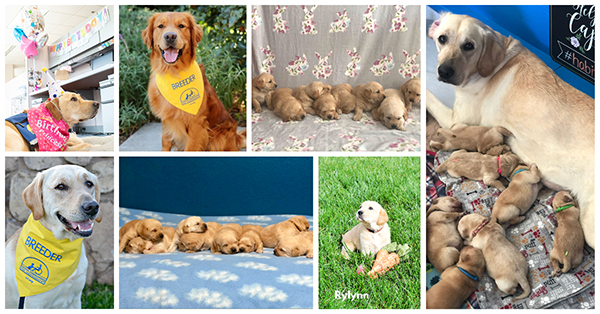 ---
This article posting is part of The Volunteer Post Newsletter for current and potential volunteers, sponsors and donors interested in supporting children and families in crisis. Learn more about Fairfax County Department of Family Services' Volunteer & Partner Services Program (VPS).