Services to Strengthen Families and Prevent the Abuse and Neglect of Children
In partnership with our community and other county agencies, our programs provide no-cost, community-based prevention and early intervention services to strengthen families, promote healthy family functioning and encourage families to become self-reliant. 
---
---
Parent Support Line – We Are Here to Support You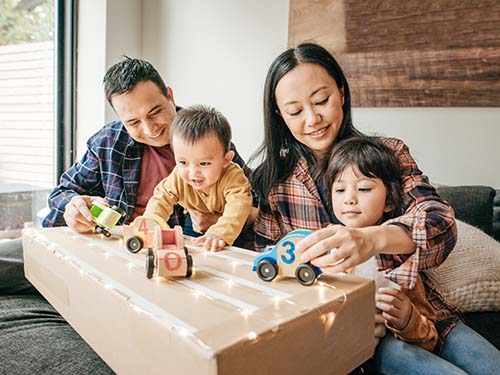 Parent Support Line 703-324-7720
Monday-Friday 8 a.m.-4:30 p.m.
The Parent Support Line is a great resource for parents and caregivers of children ages 0-18 years old. Staff can help with parenting advice, support, and tips to help navigate emotional and relational parenting issues. Language support is available. Our support team is available to answer your questions.
Commonwealth Coordinated Care Plus Services
Commonwealth Coordinated Care Plus (CCC+) – a Virginia Medicaid Waiver – is for children who are medically fragile or who have complex medical needs, regardless of the family's income. Services include in-home weekly personal care or private duty nursing, respite care, and access to Medicaid as secondary insurance. The child must have at least 1 daily, ongoing medical nursing need. Examples of medical nursing needs or medical diagnoses may include cancer, dialysis, suctioning, seizures, G-tube/NG-tube feeding, severe autism (i.e. nonverbal, intellectual disability). To Apply for CCC+ Services, call Coordinated Services Planning at 703-222-0880 to request a screening for the CCC+ Waiver. 
This home-based early intervention and prevention program offers pregnant or parents of newborns at risk of maltreating their child an opportunity to learn parenting skills and receive emotional support and case management services.
Support and referral services link families who are facing significant challenges to community resources and provide them with opportunities to build leadership skills to become resources within their own neighborhoods.
Group-based programs, offered at community-based sites help parents and their children learn healthy, positive interactions and receive practical advice and guidance on living in harmony.
Volunteer and Partner Services Program
The Volunteer and Partner Services Program engages volunteers and builds partnerships to support families with children who are at risk of abuse, neglect or placed in foster care or with relatives. The program builds volunteer capacity in the division, implements programs, and directs activities that promote positive relationships within the community. Together, Volunteer and Partner Services Program and Children, Youth and Families staff, support workers by providing the most efficient, safe and stable service to our clients.
---
Fairfax County Department of Family Services
Child Abuse Prevention Services
Call 703-324-7720; TTY 703-222-9452 or
Email