What are Dads Parenting Groups?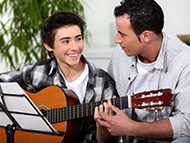 Volunteer facilitators are needed to lead parenting classes for fathers. Developed by a widely renowned team of fathering experts, 24/7™ Dad is a unique and innovative program specifically designed to educate and empower fathers, support co-parenting mothers, and enable children to develop strong self-esteem, family identity and values. It focuses on five key areas of fatherhood:
Self-awareness
Self-care and coping
Fathering skills
Parenting skills
Relationship skills
Referral Process
Many fathers enrolled in the class have not been involved with their children, recognize that they need to improve their parenting skills, and want to break the cycle of absence in their family.
Fathers are encouraged to apply to the program; however, most of the men are referred by a social worker. Participants are screened to determine their appropriateness for the class. Learn more about the program.
How Can You Help?
Become a Facilitator
Volunteer facilitators teach parenting classes that are specifically designed to work with these fathers who struggle with parenting or engaging with their children who may be within the child welfare system.
Facilitators must be at least 30 years old, a father and have experience with the child welfare system as a client or a professional. Facilitators need to be reliable, accepting, patient, honest, flexible, motivated, cooperative and tolerant. Volunteers help fathers engage in and build relationships with their children.
For more information, email Samantha Carrico or call 703-324-7576.
---
Learn more about the application process and criteria for becoming a volunteer with the Father Engagement Program.
Apply to volunteer today!
---
Meet Our Volunteer