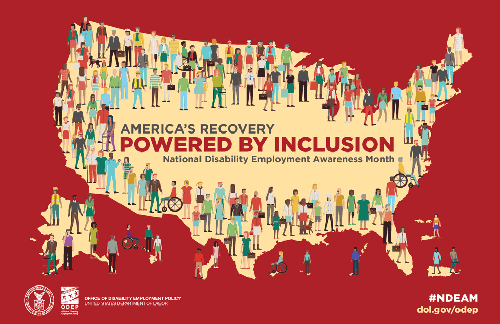 This year's theme, America's Recovery: Powered by Inclusion, reflects the importance of ensuring that people with disabilities have full access to employment and community involvement during the national recovery from the COVID-19 pandemic.  
As of June 2021:
21.3% of people with disabilities participated in the national labor force, whereas persons without disabilities participated at a rate of 67.7%*. 
10.9% of persons with disabilities were unemployed, compared to 5.9% of persons without disabilities.
Approximately 10% of persons with disabilities in Fairfax County have income below the poverty level. 
While disability employment is celebrated in October, it is imperative that advocacy take place year-round to ensure that persons with disabilities are employed at a rate equal to persons without disabilities.
*Statistics obtained from the Department of Labor and the American Community Survey.