The Fairfax Area – Disability Services Board's Martha Glennan Disability Inclusion and Equality Awards are presented annually to recognize people, businesses, nonprofits, government agencies, and other organizations that excel in demonstrating a commitment to promoting equal rights and community inclusion for people with disabilities in the Fairfax area and how people with disabilities have significantly benefitted from their efforts.
2021 Martha Glennan Award Recipient Conner Cummings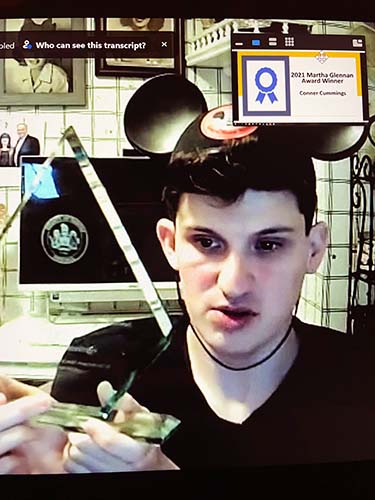 Congratulations, Conner Cummings! 
The 2021 Martha Glennan Disability Inclusion and Equality Award was presented to Conner Cummings for his advocacy on behalf of people with disabilities.
Conner has been advocating for persons with disabilities from a young age, when he and his mother advocated for the need for Conner's Law. Passed in 2015, Conner's Law was established to help adult children with disabilities who need financial support. If the parents are divorced, the law allows judges the discretion to order non-custodial parents to pay child support for disabled adult children, over the age of 18.