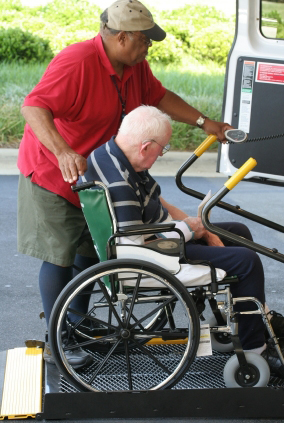 ADA paratransit is a shared ride service for people with disabilities who are unable to use public transportation (bus or rail) due to their disability. ADA paratransit service must be provided within 3/4 of a mile of a bus route or rail station, at the same hours and days of bus or rail service, for no more than twice the regular bus or rail fare. The ADA also requires that paratransit rides be provided to all eligible riders if requested any time the previous day, within an hour of the requested time.

MetroAccess provides the ADA paratransit for the Washington metropolitan area, which includes the counties of Fairfax, Arlington, Montgomery, and Prince Georges, the cities of Fairfax, Falls Church, and Alexandria; and the District of Columbia. 
Eligibility Process
The eligibility requirements for ADA paratransit are:
A disability as defined by the Americans with Disabilities Act and be unable, as a result of the disability, to use regular fixed-route public transportation such bus or rail; or
The need to use a ramp or wheelchair lift to board or exit an accessible transportation vehicle, but an accessible public vehicle is not available at the time, date, and on the route you need to travel; or
Be unable to travel to or from the bus stop or rail station due to a disability.
MetroAccess Eligibility
There are four ways to request and obtain an application:
Requesting an application by mail: Metro Transit Accessibility Center, 600 Fifth Street NW, Washington, DC 20001
Calling 202-962-2700, TTY 202-628-8973
After you complete the application, call 202-962-2700 and select option 5 (TTY 202-962-2033) for an assessment. All assessments are in-person at the Metro Transit Accessibility Center. If needed, MetroAccess will provide transportation to the interview/assessment for free.
At the assessment, MetroAccess will determine eligibility based on how the disability impacts the applicant's functional ability to use public transportation, including the applicant's independent travel skills and the ability to walk or travel a measured distance.
Types of Eligibility
There are three different types of eligibility for using ADA paratransit like MetroAccess.
Unconditional: Customers can use ADA paratransit for all trips (unable to use bus or rail)
Conditional: Customers can use ADA paratransit for some trips/trip-by-trip (able to ride bus or rail  for some trips or under certain conditions)
Temporary: Customers can use ADA paratransit for a time-limited basis, based on a short term disability
Eligibility Determination
Within 21 days of the assessment, applicants will receive written notification of the outcome of the assessment. Applicants found to be ineligible may reapply in 120 days.
Appealing an Eligibility Determination
An applicant who is found not eligible for ADA paratransit has the right to file an appeal within 60 days. Additional information pertinent to the applicant's disability should be submitted, along with reasons the applicant believes he/she should be eligible. Within 30 days after receiving the appeal request, the ADA paratransit service will notify the applicant of the date and time of the appeals hearing.
If the appeal is denied and applicant believes that the eligibility process is flawed or unfair, a complaint can be filed with the Federal Transit Administration.
Personal Care Attendants (PCA)
All paratransit customers have the right to travel with one personal care attendant (PCA) and should indicate his/her intent to do so when making a trip reservation. While the customer is required to pay the full fare, the PCA can ride free. Additionally, customers may also reserve a space for a traveling companion such as a friend or family member (not a PCA) who must also pay the full fare.
Scheduling Trips
ADA paratransit services' policy for scheduling trips varies so check with the specific entity before scheduling.
Service Area for ADA Paratransit
ADA paratransit must provide service for trips that are within ¾ of a mile from bus or rail service during the corresponding days and times of service for bus or rail. For example, if you live ½ of a mile from a bus service that runs Monday-Friday, ADA paratransit does not have to provide service on the weekends.
Customer Pick-up and Drop-off
ADA paratransit must provide curb-to-curb service, but some ADA paratransit, including MetroAccess, provides door-to-door service, which means that the driver will meet and escort the customer from the outermost exterior door of the customer's pick-up address and onto the vehicle, and from the vehicle to the outermost exterior door of the customer's drop-off address.
Fare Price
ADA paratransit can charge customers twice the comparable fastest fare on bus or rail.
Applying for Visitor's Status
Customers who are eligible for ADA paratransit service in their local area can use ADA paratransit service when visiting other cities where it is provided. Service can be provided for any combination of 21 days during any 365 day period.